Fallkniven F1 is official knife being used by Swedish Air Force since 1995.  It's a knife whose manufacturing areas and core manufacturers kept on shifting.
Like in start Fallkniven F1 Knives were made Linder a German Company based in Solingen then later it its manufacturing has been shifted to SEKI, Japan.
Why? Because of VG-10 steel. As Fallkniven F1Z is made from 3 layers of laminate VG01o steel. The most interesting and useful property of VG10 steel is its ability against sidewise stress.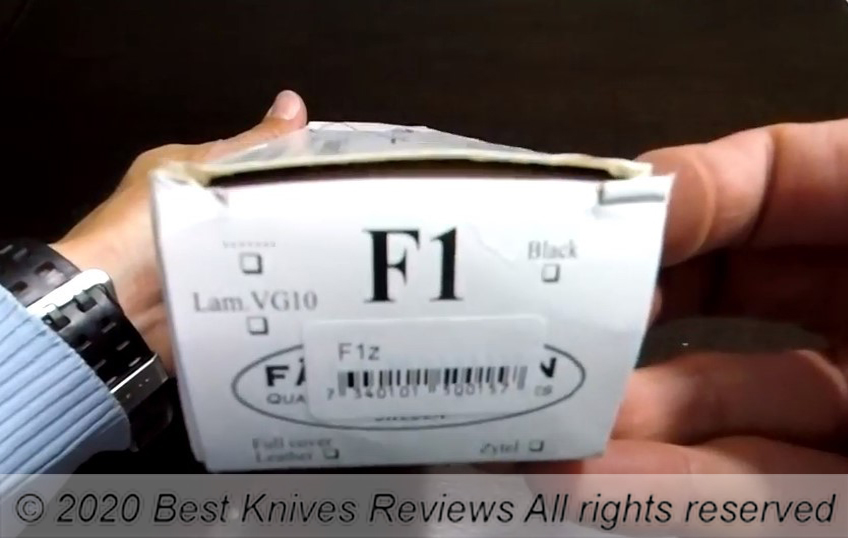 Fallkniven F1 has many variants like Fallkniven F1 Pro, Fallkniven S1X, and Fallkniven S1XB (cos black finish) and so..! The product under review today is Fallkniven F1Z as if previously reviewed Fallkniven S1x.
Fallkniven F1z VG10 & Fallkniven F1z LamCos
When we talk about Fallkniven Knives, its Survival knives with high quality blade, superb grip at your disposal, similarly, this Fallkniven F1Z is definitely a Scandinavian classic as it also has drop point blade, its middle sized blade and a synthetic handle and who can forget about its Zytel sheath which we discuss in detail as well.
As per my first impression of Fallkniven F1Z Knife, I must say it's quite balanced between its strength, functionally, cost and effectiveness which we will be doing in this review as we proceed. But first things first, let's talk about its Technical Specifications, so we know, what to expect from it and what not? Note: F1Z LamCos is slightly bigger, heavier and expensive than F1z VG10.
Technical Specifications of Fallkniven F1z VG10
Blade Color         Silver/Gray
Blade Edge          Plain
Blade Length      3.80
Blade Material   Lam.VG10
Handle Color      Black
Handle Material Thermorun
Knife Type          Fixed Blade
Knife Weight      6.00
Point     Drop Point
Sheath Included  Yes
Sheath Material Zytel
Total Length       8.30
The Design of Fallkniven F1z VG10 & Fallkniven F1z LamCos
It's a full tang knife just like Fallkniven F1XB, and also had beautiful convex grind with drop point blade. Beauty lies in its simplicity making it standard Swedish Air Force survival knife without a doubt. But, do not get fooled by the dead simple plain looks of this knife. It's a fixed blade knife and its almost 6 ounces 170 grams meaning as light as holding 3 A4 printing papers in your hand. The Zytel sheath comes by default with it.
But if you order it from Fallkniven official website, you do have the option to have leather sheath as well. Please note that there is another variant of F1Z with Lam.Cos also which is slightly higher in price as compared to F1Z VG 10 stainless steel knife we have this review on.
The Blade of Fallkniven F1z
As mentioned earlier it's a drop point blade and drop point blades are mostly used in outdoor knives or in field. The drop point shape of its blade has proven itself and its most optimal shape to survival knives. That's why you see, 90% of the survival knives have drop point blade.
Then comes the 3 layers of laminated steel which is not complete convex grind as an whole like Fallkniven F1XB Black, but you will find flat grind for most the part and convex grind start to get its shape near edges. Similarly, all 3 layers of steel are visible in day light.
The knife blade has a very small choil showing a thorough thought process by Fallkniven Knives as this small choil makes sharpening it easier and makes it look better too.
The spine of F1Z has material making it strong and yes, it sparks with fire steel whenever you strike. But you won't find jimping on its spine just like Fallkniven F1x. 
You must be wondering I have not talked about Blade material so far. As said, its blade is made from VG10 steel with convex grind given to this. VG10 Stainless Steel is proven from longer edge retentions and with great HRC ratings making the knife literally invincible or indestructible by human pressures.
Second best part of VG10 Steel is sharpening, you can get back razor sharp edge in no time. It's much easier and quicker to make your blade razor sharp again after use.
Batoning Rating of F1z
I have tried and used it and after I rate it 7 out of 10 for its Batoning ability. As 3.75 or 4" in F1zCos Version both are quite small for batoning purposes but yet, the strength of the blade and retaining blade sharpness earns it 7/10 rating against batoning.
Fallkniven F1z's handle Review
F1z is a full tang knife by design and the handle is again made from Thermorun. Thermorun is a synthetic material and which is insoluble against so many soluble agents.
The handles are thin, so they do not bulge up the grip, making the knife's grip comfortable in hand. The Thermorun handle scales provides added friction (grip) when your hands are wet or even if you are wearing gloves.
The quillion at the end is perfect in size, not so big that it's protruding out and not even small that your fingers or grips slips from it and in result you cut your hand. The quillion is perfect in size both in terms of its functionality as well as in aesthetic looks.
There is also a lanyard hole in the handle as well. Given I never used lanyard in my Fallkniven knives because they are always packed in their respective sheaths. But yes, during batoning having a lanyard for addition grip is a good thing.
Last, the tang of Fallkniven F1z sticks out from the end and servers as hammer or if you have to press or squeeze anything in wild, you can easily use it.
As a whole, the handle from its construction to its materials everything is great, you can use it anyway you want, all types of hands and almost all grips are fine while holding. I must say the handle ergonomics of this knife are better as compared to Fallkniven 1XB.
The Sheath of Fallkniven F1z
Fallkniven F1Z is for sale at most the websites with Zytel Sheath through injection molded system. Its light weight, durable and has large belt loop as well. A small lip locks the knife securely but when you shake it, you still feel the noise of blade hitting the sheath.
I must say it's not that quality or craftsmanship that you see in a knife as these sheaths are mass produced or the one I received wasn't properly checked for quality. But, there is also a hole in it at the bottom of sheath which serves as drain hole for dirt and fluids.
But, there is leather sheath available as well for this knife, I don't have my hands on it so, it's not right to comment on something without using it.
Where to buy Fallkniven F1Z?
Now you know my point of view about Fallkniven F1z Knife. The final question is where to buy Fallkniven F1z fixed blade knife with lowest price, being sure that you get the best price for your knife.
I'm linking the images down under from where you can buy them brand new Fallkniven F1z VG10 and also Fallkniven F1z LamCos one at the lowest prices with fast shipping offers and also 30 days return policy.