You may have read many reviews  about Spyderco Delica from knife experts suggests that it is one of the best EDC folding pocketknives no matter what you intend to do with it but its not Correct. Given Spyderco Delica 4 C11FPBL has is flat ground is so lightweight that it does not feel like you are carrying something.
However, do not let its lightweight fool you into undermining its quality and functionality as its from Spyderco Knives. For my usage is most important part. Delica 4's blade has VG10 steel which is known to be very sharp when it comes to slicing especially its a full-flat ground blade and a thinner cutting edge with a 13 mm opening hole, making the deployment swift.
As usual, I like different carrying options and its upgraded four-way pocket clip with up, down, left, and right action makes it easier to carry wherever you go according to Spyderco's retailer. However, it may get less sharp as compared to Spyderco Para 3 and Paramilitary 2. Buts it budget knife what else can you expect?
Spyderco Knives
Spyderco knives started as a cutlery company founded by Sal Glesser and his wife Gail in 1976. Initially, they traveled in a van selling knives and participating in trade shows and fairs countrywide. Then they eventually settled in Golden, Colorado in 1978 as the scale of the business expanded.
The company manufactured its first ever folding knife in 1981, the C01 Worker. The invention revolutionized the pocketknives manufacturing industry, and its success followed many more models by Spyderco. The features that stood out on C01 Worker were the company's trademark 'Spydie-hole' for one-handed opening, a pocket clip for easy carry and a serrated edge for aggressive cutting performance.
Today, Spyderco has worldwide distribution networks and manufacturing resources in US, China, japan, Taiwan, and Italy. It is one of the leading manufacturers of pocketknives in the world. On top of that, it maintains its trademark round hole, has a portfolio of patent rights, and won multiple industry awards. It set industry standards of pocketknives owing to its high-quality and performance, which won the loyalty of thousands of customers worldwide.
Spyderco Delica 4 Review
Compared to its premium counterparts of Spyderco, Delica 4 comes in 9 colors (black, blue, brown, gray, green, yellow, orange, and purple) and is affordable, at just $88 – 106 MSRP + free shipping.
The FRN (fiberglass reinforced nylon) handle scales and Bi-Directional Texturing™, makes it slip-free for tactical traction. You will also find slip-resistant jimping at the blade's spine. The stainless steel liners inside the handles make it sturdy without adding weight and acts as a hinge for external and internal components.
If you have prior experience with Delica or Endura, you will love the feel of this variant. However, Delica 4 FRN blue is a bit different from C10 Endura 4 and better than other premium versions.
Another thing, you also find Delica 4 trainer knife, I do not understand the purpose of trainer knife and when its not tactical nor its butterfly knife. Like, I bought Kershaw Lucha Trainer as well, and have also review Kershaw Lucha almost 2 years back.
After few cuts & nicks, I decided to go with trainers before getting my hands on actual balisong. But, Why and who shall buy Spyderco Delica 4 Trainer?
If someone, has already bought it, and if you ever read my review, please do let me know.
First Impression for Spyderco Delica 4 Review
The first thing that caught my attention when I held Spyderco Delica 4 was its lightweight and bright colored handle. The blade steel looked sharp, deep and narrow, and the tip seemed delicate for frictionless edge hone but resonated strength and confidence. When I close the knife and the Spydie-hole pops out, it seems bulkier than when it was open, but not so bulky that you would not carry it with you on a backpacking trip. The handle feels narrower and smaller than you would expect, but ideal for someone who is not used to carrying a pocketknife.
If you are a first-time user of a pocketknife and looking for a knife for light usage, then Delica 4 is the perfect choice. It is low maintenance, easy to sharpen, costs less, and comes in 9 colors.
It is soft to touch, yet incredibly strong. The Spydie-hole is excellent, and makes deployment very smooth and quick.
As you can see, the Spydie-hole pops out, making it a lot easier and safer to open and close the knife.
The pocket clip however, is not as deep as other Spyderco pocketknives. Therefore, you cannot carry it as a deep-pocket carryon, but has an ambi clip position.
However, I liked that the VG-10 steel is super rust-resistant, requiring lesser knife sharpening.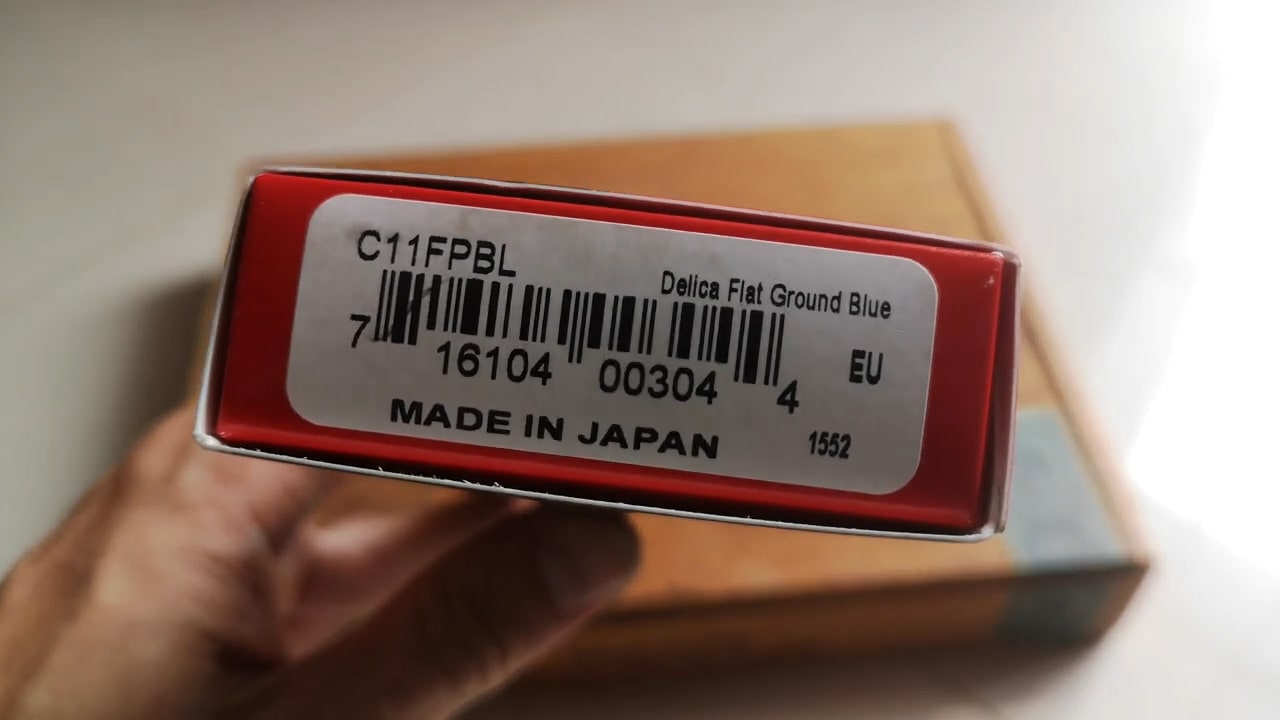 The Blade
The blade of Spyderco Delica 4 is VG-10, which is of Japanese origin and originally marketed to Japanese chefs and originally designed by Takefu Special Steel. However, pocketknife manufacturers soon realized the steel's usefulness in pocketknives. It is made up of 15% chromium, 1.5% cobalt and 1% molybdenum. All these compounds, including iron, carbon, and manganese contribute towards the blade's hardness and long-lasting sharp edge. Vanadium and other components improve wear resistance of the blade. In addition, the VG10 is highly temperature tempering and suitable for temperature coating of up to 450°C. Spyderco utilizes VG10 in many of its products.
It features full-flat grind drop point blade, which makes slicing and dicing much easier. The blade was razor sharp right out of the box, and remains sharp for a long time. However, you can also get a Spyderco Sharpmaker to sharpen the edges.
As you can see, the blade is towards the thinner end, and has enough surface area and belly to slice through almost anything. At 3 inches flatness, it is good for most tasks and legal to carry in most places, so that is a good thing.
The blade length stands at 2.875 inches, with an edge length of 2.563 inches and blade thickness of 0.093 inches. The Spyder hole spans 0.5 inches in diameter embedded inside the blade, and whatever you cut with it will slide right off the hole.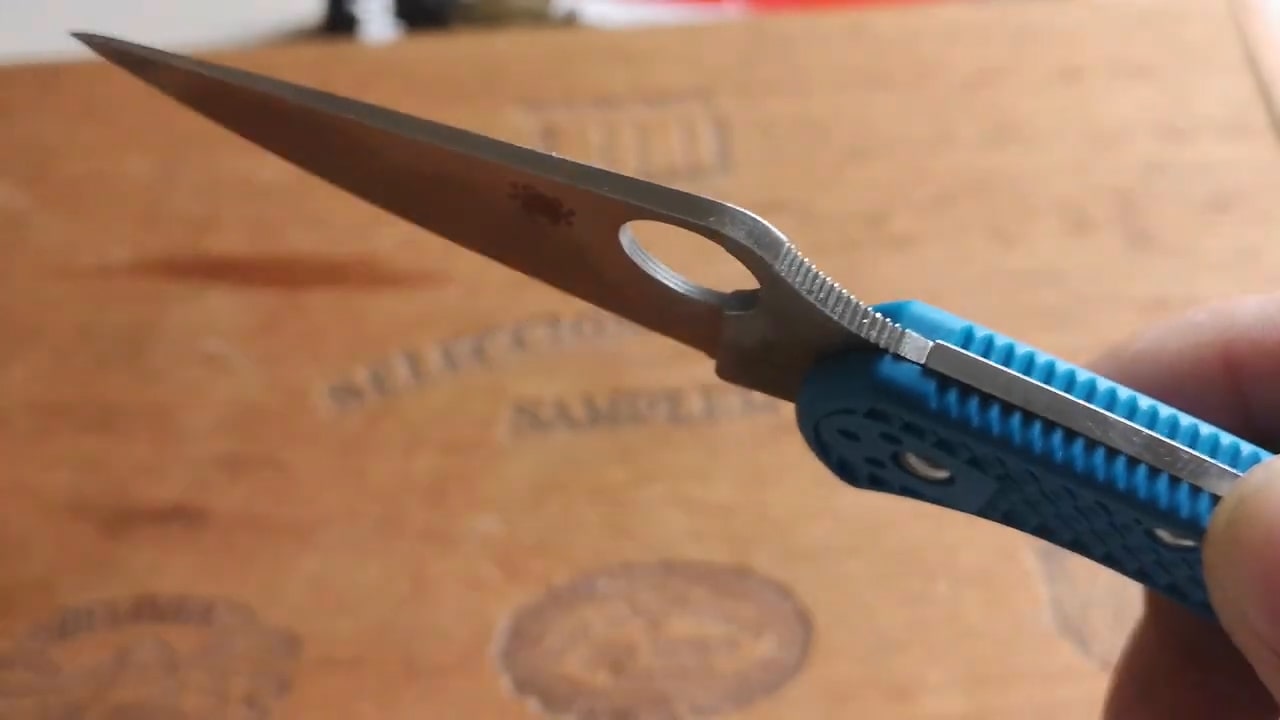 The Ergonomics
The ergonomics on Delica 4 are not perfect. Firstly because the handle size is too small for sturdier hold. If you clench it tightly in your hand, the Spyder hole will pop out, although the back of the blade is optimized for thumb pressure. A bulkier handle could have made a difference without disturbing the dimensions.
Secondly, the handle of Delica 4 is 4.25 inches, which is too long for a typical pocketknife. The general length of a pocketknife is around 3.5 inches to be considered as a full-sized pocketknife.
Moreover, although the Spyder hole is bigger for smoother deployment, the steel liners inside the handle come in the way of holding the knife when it is open and cutting with it. Therefore, you may have to wear hand protection gear when using it. At the same time, it is missing a finger choil. Other Spyderco models have the finger choil, and Delica 4 could use it as well.
It also does not have a sharpening choil. Although that is fine, but Spyderco users may expect to see one, as do most Spyderco Delica 4 reviews.
It has a back lock, which is robust, but can be frustrating because they are not as straightforwardly closable as a liner lock knife by Spyderco. It closes just fine, but opening it requires placing your index finger at the corner of the opening, which has a sharp protruding edge. It can take some getting used to, even though it follows a simple technique. Moreover, a back lock is not free dropping in opening and closing mechanism, and requires a bit of wrist to twist it open. It is not a bad thing though, considering it can stay open sturdily and not close in on you in the middle of a cutting task.
The pocket clip is also painted and more delicate. It may easily get scratches and break, requiring you to replace it with a compatible and studier Spyderco pocket clip.
Deployment and Locking Mechanism
Even with the steel liners place inside the handle, the blade does not come in contact with the liners, and opens smoothly. The bidirectional texturing and jimping on back and bottom makes it perfectly suited for heavy usage. You can see a bit of choil on the blade's bottom without the jimping. Therefore, you would have to be careful using the choil for finger grip when using for heavy knife work. Preferably, use it for lightweight cutting.
The back lock mechanism functions flawlessly, and keeps the handle thinner, unlike a liner lock. The thing I liked about the lock is that it keeps the knife locked in open position until you are ready to close it. If you are used to a liner lock, then it may take time to get used to it, but it works very smoothly.
Another good thing about the deployment and locking mechanism is that the blade does not shift. It stays in place and locks perfectly between the stainless steel liners and the handle scales. If it did, it would render the knife useless. It is perfectly balanced for seamless deployment.
When cleaning the knife, you can easily unscrew the torx screws to disassemble it. However, you would have to be careful when putting it back together, so as to not disturb the original alignment.
My Experience
Despite its minor flaws, Delica 4 turned out to be a great knife over time. I tested it by slicing through a paper, and to my surprise it cut through 2.75 inches of paper without requiring much pressure. The featherweight Delica 4 turned out to be a knife with the best factory edge.
Next I tried slicing it through raw and slightly frozen chicken fillet to take it up a notch. It again surprised me by cutting the meat like a hot knife through butter! Again, Delica 4 passed the test with flying colors. Even though the edge had become a bit dull, it retained its sharpness after cleaning.
After that, I tested it by cutting wooden sticks without sharpening the blade first. It performed exceptionally well for the first 45 minutes without requiring much effort.
I also found that women especially liked this knife because of its lightweight and the feminine color availability. My favorite is the purple one, although I also find green very attractive. Women may also find it easier to carry and use because it requires less force, is easy to open and close and seldom needs sharpening.
The blade efficiently smoothed out the rough edges of the dry sticks. To maximize control, I held the knife closer to the grip, and the edge delivered exceptionally well. My thumb did not have to exert much pressure, given the belly and surface area of the blade.
Even after all these tests, the Delica 4 hardly dulled enough to require a sharpening session. However, I still gave it a go with a sandpaper to sharpen the edges for impressive performance. I focused the sharpening on the base of the blade that underwent most of the woodcutting work.
Once or twice, I dropped my Delica 4 6 feet above the ground and it only suffered minor scuffing. Although, a couple of forced hits almost completely opened the knife. Otherwise, the blade remains securely inside because of the knife's lock design.
Therefore, my overall experience with Delica 4 turned out better than I had anticipated, warranting further use and adding to my pocketknife collection. I would give it an overall rating of 4/5.
Endura 4 vs Delica 4
Endura 4 and Delica 4 share many similarities including the blade steel, clip position, tip carry, lock type, tip carry, grind, handle materials, and country of origin. However, their sizes differ. Endura 4 is slightly bigger than Delica 4 in all aspects, including the blade thickness. However, Delica 4 weighs lesser than Endura 4 but costs more.
However, the ergonomics of Endura 4 are slightly better than Delica 4 due to the size. It provides better grip, and the Spyder hole does not get in the way.
The good thing about both the variants is that they come in the same variety of colors. However, Endura is pricier at $136 MSRP, mostly due to its size. Although you can find it on Amazon and other online retailers at a much lower price, it is still pricier as compared to Delica 4.
All in all, I would compare Delica 4 over Endura 4 because it is more compact, lighter weight and hangs comfortably in the pocket via the pocket clip. Moreover, it is cheaper as compared to Endura 4, saving you some bucks.
Although if you have to carry out tougher tasks and will be using your knife more frequently, then the bigger blade of Endura 4 would be a better choice. It comes with the same features and benefits as Delica 4, but has an edge over size.
Endela vs Delica 4
The Delica 4 and Endela both share the same VG10 stainless steel blade, FRN (fiberglass reinforced nylon) handle scales with a full-flat grind, and are lightweight. The difference is that the Endela was produced as a tribute to the law enforcement that acts as a barrier to reduce crime and violence. Spyderco created the Thin Blue Line Endela series with the engraved motto 'To Serve and Protect' in honor of the law enforcement officials.
Another difference is the price. Endela has a slightly higher markup at $142 MSRP, as compared to Delica 4's $126. The $200 difference reflects its limited edition and it is slightly bigger than Delica 4.
As you can see, the size difference is very apparent between the two. Because Endela is bigger than Delica, it is also thicker and slightly heavier than Delica 4. It means that Endela can carry out heavier and bigger cutting tasks than Delica 4.
Moreover, the ergonomics of Endela are better than Delica 4, mostly because of the handle size and grip. The deployment and locking mechanism on Endela are as good as Delica 4, although it feels sturdier in the hand with a more comfortable index finger tip position.
Conclusion
Delica 4 Lightweight has its pros and cons. Even though it is featherweight, it is sturdy, tough, and requires less strength and sharpening. Because of its light texture, it is best for light yet consistent usage. It passed the paper test, sticks and raw meat test. However, it needs cleaning and sharpening after an hour or so of intense use.
It is excellent in cutting precisely, thanks to its Japanese origin VG10 stainless steel blade. The jimping and the spine provide excellent grip, making longer grips more comfortable.
Although the ergonomics on Delica 4 are not ideal, it is still not a bad choice and fulfills the basics of a pocketknife. Moreover, the pocket clip is not deep and is painted, which can rust easily. However, it holds its own when hung on a pocket.
The exceptional price point compensates for the minor flaws of Delica 4. Its counterparts, Endura 4 and Endela are bigger in size and cost more. However, Delica 4 comes in a variety of feminine colors and is more affordable for light usage. Its lightweight and soft touch are ideal for people not used to pocketknives. Therefore, I would recommend Delica 4 overall, as it is better than an ordinary pocketknife and affordable than other higher-end variants.
Frequently Asked Questions
What material is Spyderco Delica 4 blade made of?
Spyderco Delica 4 comprises of the Japanese VG10 stainless steel blade. It is thin and steeply tapered tip-to-bolster and made from carbon steel typically used by chefs and considered as a high-end kitchen knife blade.
Does Delica 4 have liners?
Yes, Delica 4 has FRN (fiberglass reinforced nylon) blade with skeletonized stainless steel liners.
How old is the Spyderco Delica?
Spyderco introduced Delica 4 and Endura in the market around the same time in 1990. They were both the first of their kind, being lightweight, affordable, and having the same pocket clip. In addition, they were one of the first knives with one-handed deployment, whether the user is a leftie or right-handed. They still remain popular.
Is Spyderco Delica good for self-defense?
While Delica 4 was not designed a self-defense pocketknife, it can carry out the job. As sharp and tough as it is, it would be useful in unexpected self-defense. Its serrations are aggressively brilliant and quickly opens up, providing opportunity for immediate use.
Is Delica reliable?
Delica 4 has an edge because of its Japanese origin and VG10 blade, making it reliable. Although lightweight, it is tough and durable, and requires little pressure to operate, signifying its high-quality while being affordable.