Spyderco Paramilitary 2  review incites as much attention as its popularity. It is another innovative folding pocketknife invention of Spyderco with a G-10 handle and drop-point blade. Its overall length ranges between 8.25 to 8.28 inches, with a closed length of 4.81 inches. Its blade is 0.14 inches thick with a length of 3.44 to 3.48 inches. It has different variants especially in handle materials and colors in terms of blade material you will find Spyderco PM2 in CPM S30V or in CPM S45VN, of which i have done its review.
The S45VN Sprint Run costs $225 MSRP. It is more fine-tuned than its previous variants in a way that it is more corrosion resistant with more chromium carbides, delivering superior performance and functionality features. Its components provide wear resistance and edge retention, ideal for long-term and consistent usage.
It is one of the high-performance limited edition stainless steel variants available in military stripes, similar to its name, showcasing a US-made model. It features forest green G-10 scales with a CNC-machined Diamond Arc pattern, reflecting its non-slip design.
I like the S45VN Sprint Run variant because of its superior structure and high-end offerings that meet the gold standard for a pocketknife collector such as myself. It is a successor of the Paramilitary variant, which came out in 2004, with two-thirds its size for easy handling. It lies at the top for a mid-sized survival knife.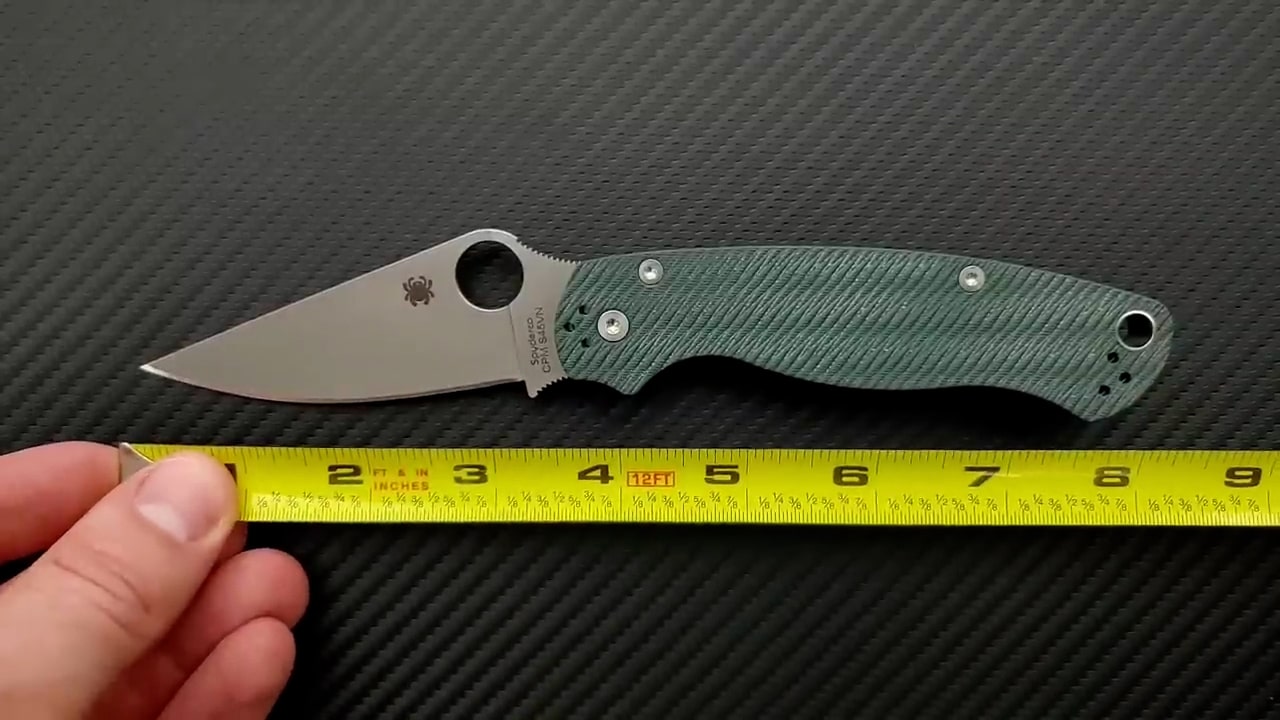 About Spyderco Knives
Spyderco is an American knife manufacturer based in Golden, Colorado, producing knives under the Byrd brand. It started as a cutlery company, and with its expertise and experienced knife manufacturers ranked in manufacturing pocketknives for outdoor activities and other adventures. It produces pocket clips, opening holes, and serrations and has its own trademarked comet-shaped opening hole present in all Spyderco pocketknife models. It makes the knife easier to open with one hand.
Spyderco collaborated with 30 custom knife makers and regular pocketknife users, like athletes and self-defence instructors, to develop knives for the hand with 20 different blade materials. It offers a range of knives for various purposes and at various price points. Although Spyderco itself is a high-end brand that rarely disappoints the user and provides value for money.
Spyderco's founder, Sal Glesser, founded the company with his wife, with the first ever product being the Portable Hand in 1976 with a spider-shaped device. It proved very useful for jewellers and hobbyists who regularly work with small objects. The ball joints, alligator clips and various angles helped them make their manual work more effortless.
The company produced its first folding knife in 1981, the C01 Worker. It is where the trademarked hole came into play, with a clip handle and serrated edge. The company pioneered this feature, as it revolutionized the knife industry and became the base for modern folding knives.
It now has a worldwide distribution network and is steadily becoming a leader in the industry. It has a loyal customer base worldwide because of its reliability, which earned it a name as a trustworthy brand.
Spyderco Paramilitary 2 Review
My first impression of the Paramilitary 2 was how stable, firm and trendy it feels in the hand. The thumbhole is larger than Spyderco's other variants with a compression locking mechanism, which makes it a joy to open and close, even while wearing thick gloves. It retrieves a feeling of ease and comfort at first sight, more than its usability. Together with the G-10 handle, it adds to the non-slippery component of the knife. Even with a larger EDC, I can maneuver the knife with the same ease as with a much smaller knife.
It almost feels as if anyone can carry it with them, given how safe it feels. Moreover, the adjustable four-way pocket clip makes it exceedingly smooth and to hold on to a pocket to reduce the chances of it slipping down. It makes a great accessory for backpackers, outdoor adventurers, hunters and hikers who like to work and wander in the wild. They can use it to cut through ropes, fruits or vegetables, and other outdoor activities.
Furthermore, it is lightweight, weighing only 3.75 ounces and measuring 8.3 inches in total, which makes it easier to carry.
I feel that it is the design quality that sets PM2 apart from its competitors. First, the green cameo pattern gives the impression of a tough accessory for people in the military and the like, which provides the image of superior quality. Secondly, you can experience its ergonomics from the first cut. It feels a part of your hand, no matter what you cut with it. As it is designed for the hand, my thumb and forefinger fell naturally on the finger coil without any sharp edges cutting through my hand. It felt like anyone could use it easily. In fact, its smooth surface feels pleasant while holding, with the blade perfectly positioned at the flat center. Although it may seem curved from the back in the pictures, its purpose is creating a sharp edge and curved knife tip.
Spyderco PM2 Blade
The Paramilitary 2 features a Spyderco drop-point blade with a full flat grind and 3.5 mm blade stock. It features a generous flat surface area with a pointed tip that slices with extreme efficiency. It is designed to cut tactfully for heavy-duty utility folders.
From my personal experience, I find Paramilitary 2 a great food slicer for food preparation. It can efficiently slice large ciabatta rolls and is very beneficial in the wild. Its sharp blade is beneficial for precise slicing and dicing.
The blade of PM2 comes in a satin finish or DLC diamond-like carbon coating. Although I like the DLC coating, I prefer the satin finish, as it gives a better feel of the blade. The S45VN and S30V both come close to being easy-to-maintain steel blades. S30V remains a popular choice among knife enthusiasts such as myself, but S45VN provides a greater edge when we want to carry out multiple cutting activities. It is resistant to corrosion and rust and can maintain a sharp edge over consistent usage for a long time.
Spyderco has released several variants of Paramilitary 2 with exotic steel blades and various materials—one of the premium versions being CPM S110V with a non-sprint run.
The Handle of PM2
Paramilitary 2 features the famous black G-10 handle over nested stainless steel liners. The corners of the handle are nicely rounded and shaped for a firm hand grip, and the milled liners help make it feel light weighed and sit flush with the G-10.
The screws that you see on the handle meshes everything together with two pillars and an open construction design with an ample lanyard loop. The handle construction is ergonomically sound, especially with a 50-50 finger coil made from the blade stock and the handle. It also makes it easier to push your hand back for maximum surface area or move closer for a more precise cutting technique. It may look smaller in the pictures, but it feels big enough to hold however you want.
Furthermore, the jimped thumb ramps on this handle is extraordinary. It prevents your thumb from feeling discomfort while cutting, slicing or dicing from whichever direction. It sticks your thumb in a safe place and makes cutting jobs easier.
Pocket Clip
The pocket clip on Paramilitary 2 is an essential component of this knife's handle and deserves its own rating. It is the standard Spyderco hourglass-shaped 3-hole pocket clip with a bright satin finish. It is large enough to hook onto the sides of a pocket with deep carry capability and good retention.
However, a blackened deep carry pocket clip would make it more discreet. The Lynch Northwest Short Titanium Spyderco Pocket Clip (Blacksmith) NW has a sturdier blackened pocket clip that I would prefer for an EDC. However, the standard pocket clip works well too.
Spyderco Para Military 2's Deployment
The deployment on PM2 is made easier with an oversized signature, 'Spydie-hole,' which makes it easier to open and close with one hand's thumb and index finger.
The Spydie-hole extends up to 14 mm in diameter. It takes some getting used to, but then feels comfortable to open and close.
The deployment is extremely smooth and fast, perfect for frequent usage. It makes the knife exceptionally easy to operate with gloves, no matter how thick. Once you get used to it, it will feel like a part of your hand, a tool necessary for any operation.
It is the ultimate EDC performer with comfortable handle scales leading to a leaf-shaped blade in natural union.
Locking Mechanism
The Paramilitary 2 features a compression locking mechanism present in many other Spyderco models. I have had prior experience with compression lock with Spyderco Shaman, so I find the same lock easy on PM2. It may look like a liner lock for a first-time user. However, if you look closer, it works by wedging a liner between a stop pin and the tang. When you apply enough pressure on the lock from the edge of the spine, the lock compresses and holds the tang, liner and stop pin in place with the blade. Therefore, if you press it tightly, the lock will get tighter.
The best thing about the compression locking mechanism is that leftie and right-handed people can disengage the lock with equal precision without letting a finger get in between the blade and the lock, making it safer to deploy. The same may be challenging for a frame lock or liner lock, making it a better locking mechanism.
My Experience with Spyderco Para Military 2
My overall experience with the Spyderco Paramilitary 2 has been great. I will consider using it for all outdoor activities, add it to my pocketknife collection and take it with me wherever I go. I also find it exceptionally helpful in self-defence. It is an accessory I can carry anywhere with me, and with its quick deployment and locking mechanism coupled with the bigger Spydie-hole, I can make efficient use of it.
The best thing about PM2 is that it is multipurpose. As precisely as it cuts fruits and vegetables, it cuts through ropes with equal accuracy and speed.
As exceptional as PM2 is in its functionality and features, it is not too flashy. Therefore, it is not something I can show off or wear as pocket jewelry. It will, however, get likes and shares on Instagram or Reddit. It does look good in pictures, but not exceptional when wearing it.
Comparison
Benchmade Griptilian Vs Spyderco Paramilitary 2 
Although Benchmade Griptilian is a perfectly good knife and may even be a favorite among knife lovers, Paramilitary 2 is better in my opinion. And although 1.5 times pricier than PM2, the grip and feel of Benchmade Griptilian are different. It fills your hand more than the PM2, which takes less space, and you can hold it from the bottom or the top of the handle.
Moreover, the stainless steel of PM2 is high-end as compared to Griptilian. It also has an Axis lock in contrast to PM2's compression lock.
However, to be fair, Griptilian also does its job well, and it may not be a fair comparison given the price difference. If it also featured premium features, it may work as well as the PM2. We are comparing the two, given the similarities between them in terms of size and basic functions. Griptilian is also an excellent hunting pocketknife. Both the PM2 and the Griptilian are two of the best EDC knives and have loyal followings of pocketknife collectors and knife enthusiasts.
Spyderco Paramilitary 3 Vs Paramilitary 2
The most obvious comparison boils down to PM2 and PM3. The above image shows the size comparison between the two. The PM3 is significantly shorter than PM2, and the handle feels even shorter in the hand. The ergonomics of PM3 are not quite as good as PM2, but it is much more pocketable and easier to carry than PM2.
PM3 is better at cutting smaller objects with more precision than PM2, and people with smaller hands may find it more convenient.
Conclusion
In conclusion, Spyderco Paramilitary 2 is an excellent option for knife enthusiasts and collectors who frequently engage in outdoor activities and consistently have cutting needs and requirements.
It is a high-end premium product and much more durable and reliable than its counterparts. It is easy to carry and pocket, and lefties and right-handed people can get equal utility from it.
I find Paramilitary 2 much more compatible for outdoor cooking and food preparation in the absence of a regular knife. It serves multiple purposes, including self-defence. Therefore, it is a must item for me. I can easily carry it anywhere I go.
I would prefer PM2 over Benchmade Griptilian and PM3, given the ergonomics and premium materials it is composed of. I rate it 5/5.
Frequently Asked Questions
How good is the Spyderco PM2?
The PM2 is the ultimate EDC performer with comfortable handle scales leading up to a leaf-shaped blade made from premium stainless steel in an organic union. It is suitable for everyday and professional use.
Is the PM2 still popular?
Since 2010 when it was manufactured, PM2 remains one of the most popular choices among pocketknife collectors and experts. Although many other variants came after it, PM2 remains popular for its ergonomics.
Is Spyderco K390 Paramilitary 2 a good knife?
The K390 PM2 variant is undoubtedly a great knife, with its modern technology, superior R&D and ultimate usability all infused into one pocketknife.
Is Spyderco PM2 better than Benchmade?
Benchmade is an excellent choice if you want the same feasibility as PM2 but have a limited budget. However, Spyderco is more durable, with less wear and tear over the years and is a more reliable EDC knife.