The famous term "Swiss Army Knife" will make you think about a definite and certain image of the Brand. As there are many famous knife manufacturing brands, but Swiss Army Knife stills make in the list of the most universally recognizable pocket knife brand. Victorinox provides us with high-quality, durable steel, and solidly constructed knife models.
Their ALOX models like the Victorinox Farmer, Victorinox Pioneer & Victorinox Cadet, can be appreciated and considered universally useful masses and even for knife collectors and users being multi-tools & everyday carry. Unfortunately, if you are the person who is going to handle a knife for the first time, for sure, some of their models with 10+ tools like Mini Champ Alox will not be functional to the average person like you.
In many ways, highly maintained standard by Victorinox Knives for their Swiss Army Knife formula which makes their knife models endearing and appealing. This is why? they don't usually change a whole lot since our childhood. Most of their knife models come with multi-functional tools like the little pill-shaped handles, penknife, the bottle opener, the nail file, the tweezers, and the toothpick & scales to measure; we have and we know. They try to keep tick all the boxes for required tools in our daily life with just one product. These tools are usually tiny and easily settle into a shelf, in the closet, or a desk drawer, (in the end) for our children to discover easily.
As I mentioned earlier the models do not change much since childhood. Victorinox has made small innovations over the past years, but the designs usually remain the same.
The Hunter Pro Alox is something we can say that has brought a significant departure from the pill-shaped slip joints of usual Victorinox models. It's relatively a large knife with a single blade. It comes with an ergonomic handle, a Lockback, and a pocket clip. It may not seem interesting to you and me, but this is a big deal to a company whose product has usually remained the same for over 100 years.
The only question here is whether the Victorinox Swiss Army Hunter Pro Alox is truly something different or significant. Can it make a change in our thoughts, how we think about Swiss Army Knives? Or is it simply a novelty?
Key Specifications of Victorinox Hunter Pro
Victorinox Hunter Pro Blade
The sharp edge blade is almost near the 3.75″ drop-point. Yes, According to Victorinox this delicate giant has been designed for utility. The blade of every variant is finished with a matte bead blasted finish. The Victorinox logo and "Swiss Made" have been neatly engraved into the blade. But according to me, the only thing that gives it a utility vibe is that it bents effortlessly like a whale which is amazing for a knife that is somehow considered as a big freaking knife.
The company didn't empathize much with the blade steel of Pro Hunter. Probably, stainless steel blade of almost the same stuff is used for every model. Well, it doesn't matter because so far it has proven to be serviceable and easy to clean or sharpen with a ceramic rod.
Honestly speaking, the Alox Pro Hunter truly has a place: at a camping area where it can be used for cutting root vegetables or sharpening sticks for fire pits. The name "Pro Hunter" suggests that this would be a choice for a dressing game. If you are not a hunter and haven't had the opportunity to do anything like that, it can still work with your personality according to Victorinox.
Sadly, it doesn't work for me that way, I have to sharpen it quite some time during cutting the meat while I was on my hunting trip. Few strobes of Steel Rod and to begin. Yes, Victorinox must increase its blade edge retention for these knives.
Ergonomics of Victorinox Hunter Pro Knife
This Pro Hunter Alox is designed with complete steel liners, aluminum handle scales, and a solid steel backspacer. The closed length is practically about 5 inches, which makes it a large knife means that's there will be a lot of material and a lot of weight. But everything has been finished well, nice, and neatly, which flawlessly makes the Hunter Pro feels well made. The Red bright aluminum handle of this Victorinox Pro Hunter gives it a practically formal appearance.
Victorinox Pro Hunter Handle
One thing, you can criticize is that the handle is riveted together. That's fine for an affordable less price knife, but considering the price tag of this model hovers around a hundred, I'd prefer a knife that can be dismantled and cleaned easily when it's geared towards hunting. Despite the fact, The Pro Hunter feels cool and comfortable in hand and the edges of the Alox handles are rounded neatly. If you want to spend some buck on a Lockback knife then you should also consider Cold Steel AD15, Buck 110, and Spyderco Endura 4 which I have also compared with this knife.
There is no lack of room on this curiously oversized handle all things considered for traction. You will see the signature Alox pattern on the sides of the handle, and a short run of gentle jimping on the spine of the cutting edge of the blade. Whereas, Aluminum has never been ranked as a high grip resistance material making this knife not a paragon of traction, but for normal use, you will find it comfortable unless you don't have wet hands. Although it has a wood or plastic variant which is considered to be a good choice for outdoor use. But, the nice thing about this dazzling bright red handle is that you won't lose it on the floor of the rough forest.
Pocket clip of Victorinox Pro Hunter
First Swiss Army Knife that I have seen with a factory pocket clip, and it seems Victorinox has put a lot of thought and energy into its making process. This pocket clip is on the right side, a tip-up deep carry clip. It's large, and I think the clip was necessary as mentioned how hefty the knife is.
The clip's spring tension is good, which makes the carrying ability of the knife versatile and keeps it held in place. You might never be a belt and suspenders guy, but the Pro Hunter will make you think about it as this knife is something that you will notice in the pocket. It is 4" long and 1.5" approx. wide when closed sitting in your pocket with the weight of 168 grams.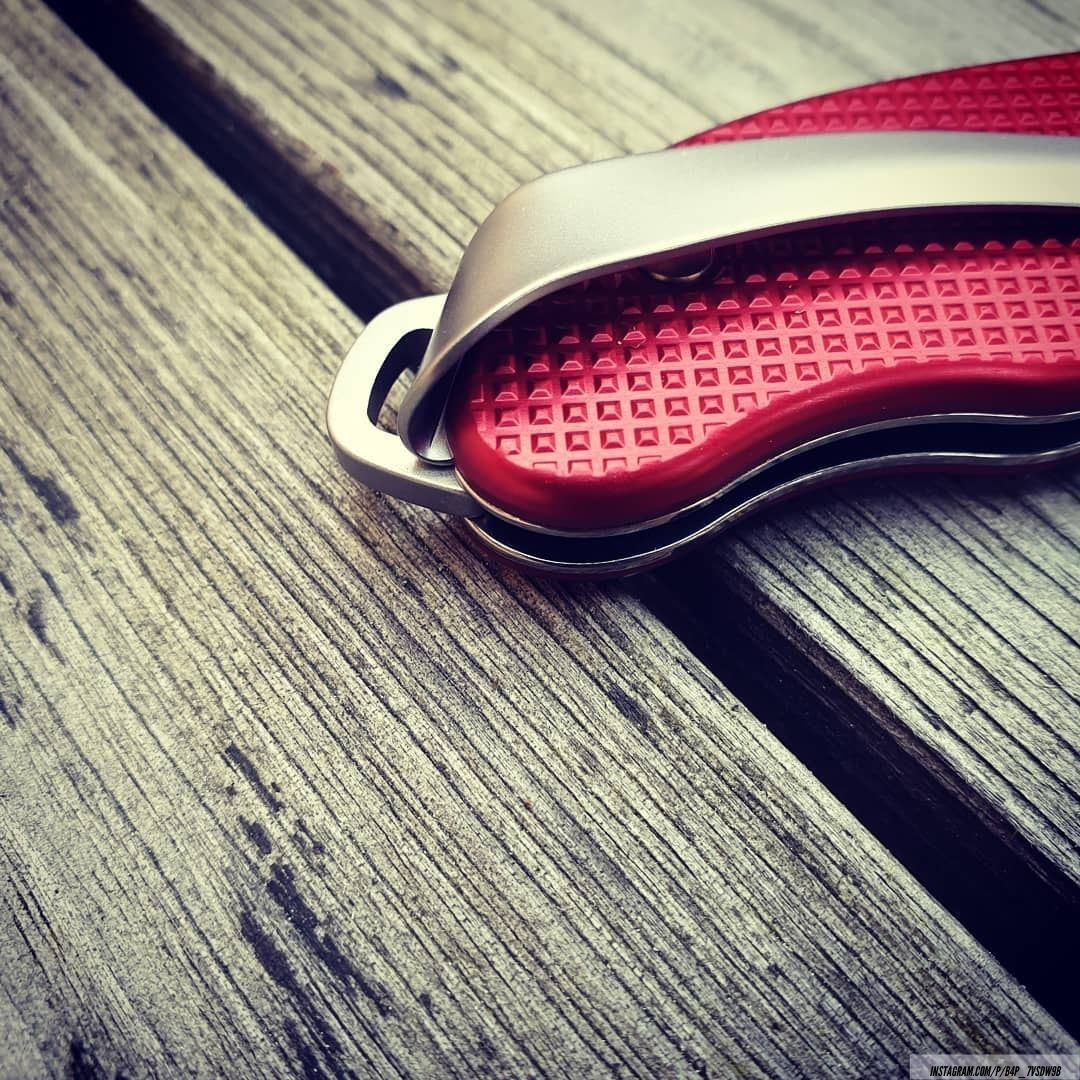 Swiss Army Hunter Pro's Deployment and Lockup
When it comes to deployment, you can choose from two options, A Pro Hunter with a thumb-hole or without a thumbhole. Although most of the models have a thumbhole; I prefer this Red Aluminum Pro Hunter "without a thumbhole, which makes it a two-handed opener. This also gives a span to the blade to grab onto and a gentle back spring, so it doesn't need a nail nick.
The thumbhole version may be more practical, but the two-handed opening may make Pro Hunter legitimate in specific countries with more regulations. In other words, Victorinox exports to 120 countries around the Globe making having this knife makes it more regulated for export. Moreover, it makes the action fluid, and there appear to be some washers inside the knife.
The Pro Hunter has Lockback locking mechanism to lock its blade in place. In the Lockback mechanism, the lock should function well in retention of its spring to hold back the blade from opening accidentally and the same has happened with the Alox Pro Hunter knife. It has a good Lockback lock. The lock-up Alox Pro Hunter is rock solid and the blade opens with a satisfying clack. Separating the lock is also very easy in Pro Hunter Alox making everything works as it should and feels good and better for you in terms of locking & deployment of this Knife.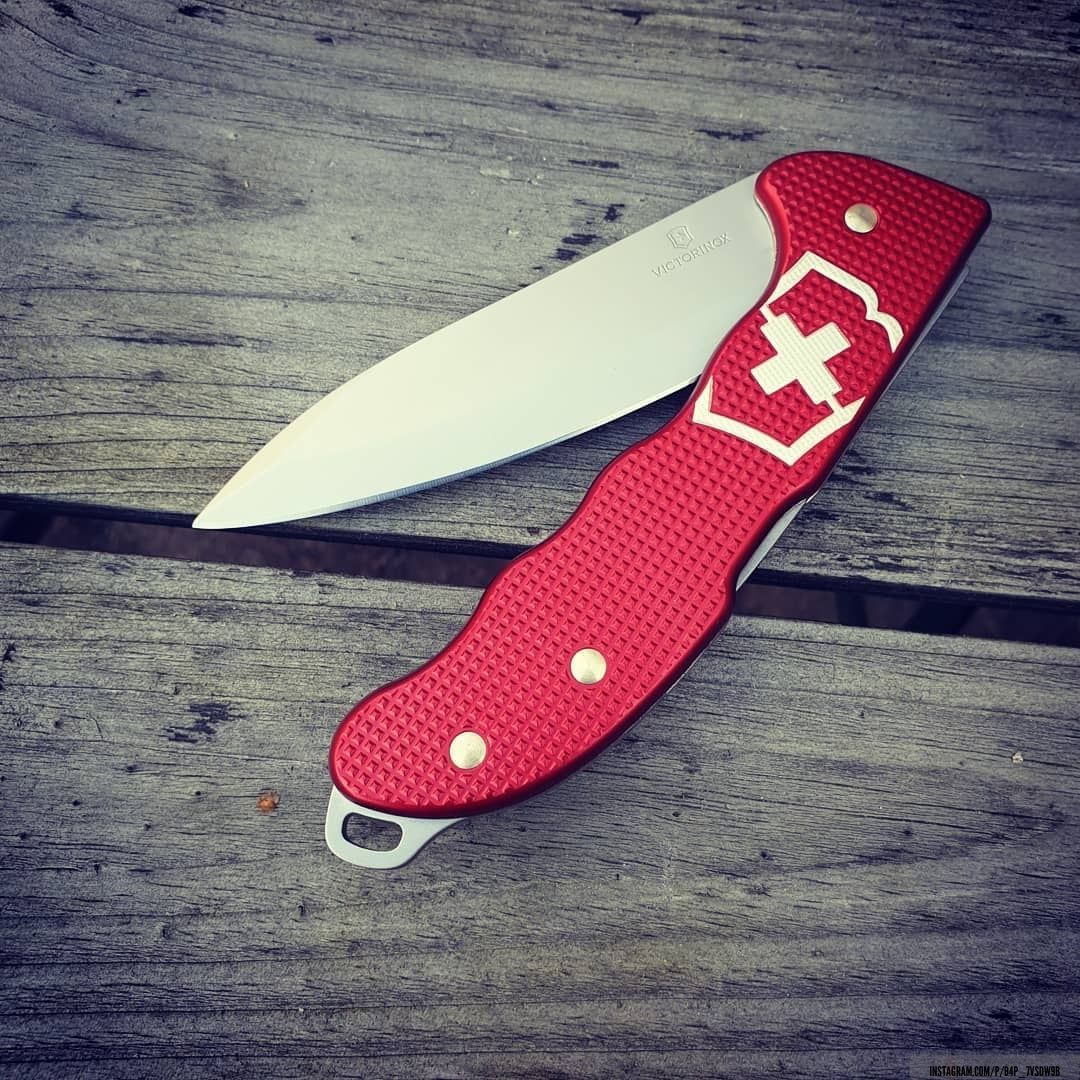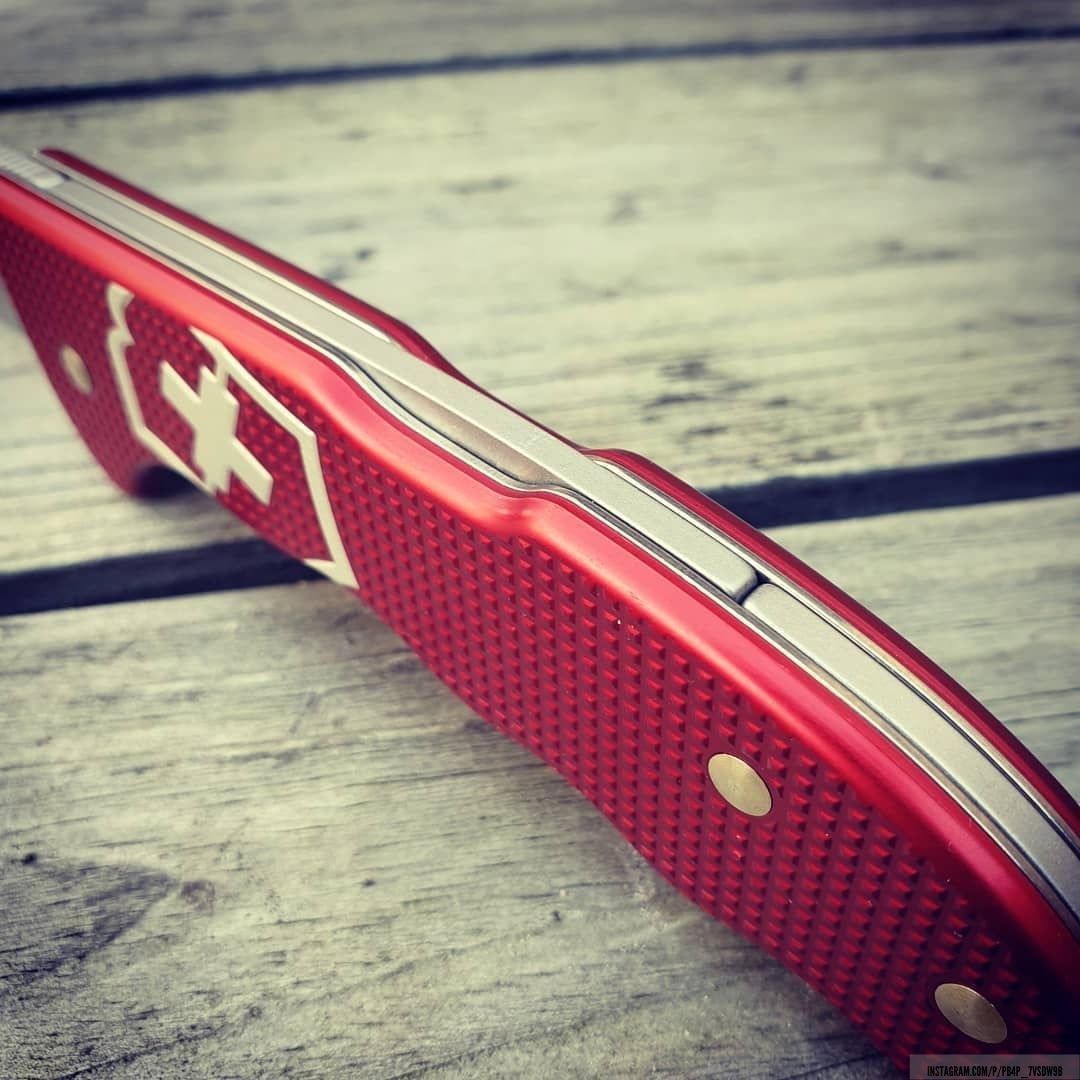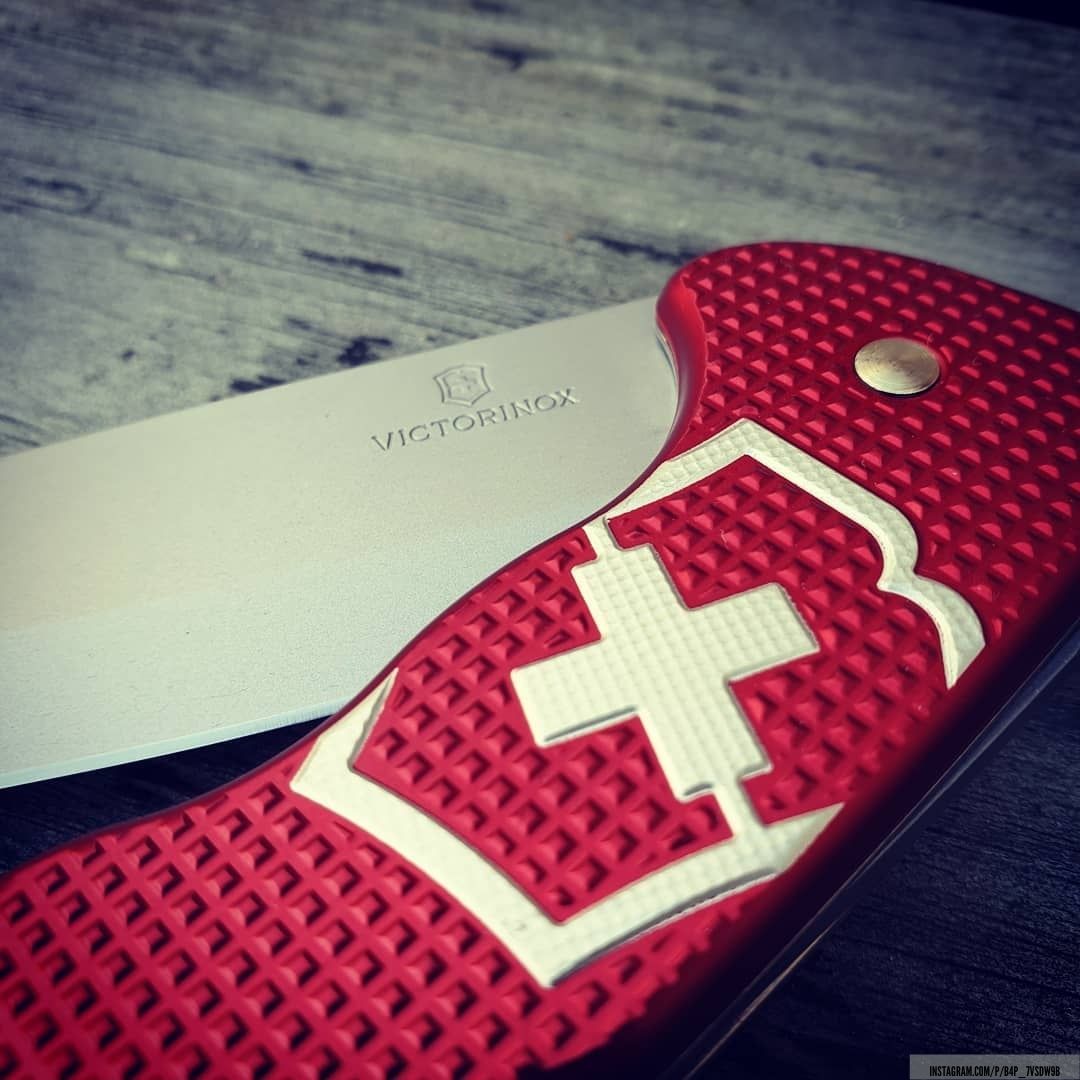 Victorinox Pro Hunter Alox vs Spyderco Endura 4
This comparison between Spyderco Endura 4 and Victorinox Pro Hunter Alox as mentioned earlier, includes common features and diffidence between them.
Victorinox Pro Hunter & Spyderco Endura 4
Both have a Lockback locking mechanism, drop point blades with 3.75 inches of blade length having flat blade grinds and Thumb holes. (*Other Variants)
Size & Action
Click to Know
Hunter Pro wins at size as it is a quarter-inch bigger than Spyderco Endura 4 making its grip more comfortable for bigger hands and during winters when you are wearing gloves.
Ease of Grip
Click to Know
FRN Vs Alox
Spyderco Endura 4 which has FRN handle scales making them all weather knife scales as compared with Swiss Army Hunter pro Alox knife which has aluminum scales making it more slippery as its lacks in traction.
Weight & Price
Click to Know
In terms of weight Spyderco Endura 4 wins on weight is 3.67oz compared to 6.25oz of Hunter Pro Alox.
Pocket Clip and User hands
Click to Know
Spyderco Endura wins on both-handed users having multiple pocket clip options for tip-up and tip-down on both sides
Blade Material
Click to Know
Spyderco Endura 4 has ZDP-189 is also called super steel is known for its durability, razor-sharp edge, and easy to sharpen properties as compared to stainless steel.
Thus, Endura 4 has superior EDC features as compared to Victorinox Pro Hunter Alox but the price does matter. It's up to your liking which one you prefer.
Pros & Cons of Victorinox Hunter Pro Alox
Con's
Some users may find the blade to be too thick

The saw is not as aggressive as some other models
Frequently Asked Questions
What is the Victorinox Hunter Pro used for?
Victorinox Hunter Pro pocket knife especially for hunters who demanded a pared-down knife of a higher caliber.
How much does the Victorinox Hunter Pro Alox cost?
The Victorinox Hunter Pro Alox typically costs around $119.99. However, the price may vary depending on the retailer.
What is the Blade Material of Victorinox Hunter Pro?
The blade Material of Victorinox Hunter Pro is Stainless Steel
What is the Handle Material(s) of Victorinox Hunter Pro?
The Handle Material of Victorinox Hunter Pro is Aluminium, Zytel, Walnut