Before delving into Spyderco Dragonfly review, it is important to note that there are many different variants of Dragonfly and Dragonfly 2. They differ in terms of blade steel material, size, shape, handle material, edge type and shape, pocket clip, and locking mechanism.
The handles of Dragonfly come in either G-10 or FRN (Fiberglass Reinforced Nylon) material. Grind is either full-flat, hollow, or saber. It is available in VG-10, H-2, CPM S30V, or Super Blue/SUS410 steel blade. The lock type is generally a back lock with a size of around 5". All Dragonfly models are of Japan origin.
However, we speculate that Dragonfly with G-10 scales and CPM S30V steel is a better choice when it comes to component quality. However, the variant we are reviewing today contains VG-10 steel with G-10 handle scales. The VG-10 may not be as good as CPM S30V, but is still of high quality offering toughness, wear and corrosion-resistance, and excellent performance.
About Spyderco Dragonfly
Spyderco Dragonfly G-10 Foliage Green C28GFG is a relatively smaller and lightweight folding knife. Even though Dragonfly 2 is also available in extra special lightweight version, weighing just around 1 oz. However, the original Dragonfly weighs 2 oz. and is 5.5" long. Its closed length is 3.2" with a blade thickness of 0.1", a blade length of 2.25", edge length of 1.9" with ambidextrous clip position, and a full-flat grind. And even though its original cost as listed on official Spyderco website is $184 MSRP, you can get it is less than $100 from Amazon.
Even though it is small and weighs lighter, it easily fits into all four fingers, with the foliage green having a nice finish, and performs like a larger knife. The Spyder hole with the pivot allows smooth opening while applying the right amount of pressure in the hand. The pinkie finger at the base of the knife acts as a leverage point with a series of purposeful grip angles.
Anyone can carry the knife whether right or left-handed. And the wire pocket clip adjusts fine along the pocket, or can be used as a money clip. The ambidextrous tip-up carry allows easy carry.
History behind Spyderco Dragonfly
The most interesting thing about Spyderco Dragonfly C28 is that it first came out in 1994, and was the first Spyderco knife to feature a 50/50 forefinger choil. The first generation C28 was a production knife made in Seki City, Japan. All the C28 variants had right-handed tip-up carry position.
After that many different variants of the Dragonfly came to light over the years until 2009, after which Dragonfly 2 was launched. The first generation C28BK featured black FRN handle and came in three different steel types: VG-10, AUS-8, and GIN-1/G-2. The edge type was either Plain Edge or Serrated Edge with hollow or full-flat grind. The C28 with AUS-8 steel launched in 2001, increased blade and overall size in 2004, and added a bug on blade in 2006.
Many changes were made with each addition in a new variant, including moving from serrated to plain edge and adding a cusp to the spine of the blade. The base of the clip was extended to the butt end, and the handle made more ergonomically sound to provide a secure grip.
Then came the CX05 with stainless GIN-1/G-2 steel in 1997, shortly followed by C28 range, including lightweight version. The C28 also featured ATS-55 stainless steel in addition to GIN-1/G-2 in 1998. The ATS-55 had increased blade and overall length when produced in 2004, with added Boye Dent in 2006. It also featured a Chrome-3 screw standard pocket clip.
The C28 further expanded into C28S, C28CF, C28PET, C28PWH, C28GPFG, and C28T. All these variants had VG-10 steel blade except for C28CF that featured ATS-55. It also costed more than the others – $130 in 1997, also because it was limited edition.
The PET and PWH, on the other hand, were Sprint Run variants, excellent for knife enthusiasts and 'made for the hand.'
The C28T came in multi-color stainless steel options, grass blades and Dragonfly Tattoo.
The knife of this review, GFG G-10 Foliage Green, was launched in 2009, initially priced at $130. It was the only knife in this series that came with right and left-handed tip-carry position. Rest of the knives were not made for the left hand. It came as a regular production run knife but with limited supply. Therefore, it may sometimes be out of stock. It also came with silver stainless wire clip, as opposed to Chrome-3 or integral FRN clip.
Key Specifications of Spyderco Dragonfly Knife
Spyderco Dragonfly Review
Spyderco Dragonfly review would be incomplete without comprehending its first impression. When I ordered Spyderco Dragonfly, it came in the standard packaging. It even had the inscription 'made in Japan,' authenticating it. I was able to get it in a good price, and my first impression of the knife seemed to match the value.
Even though it is smaller than most Spyderco knives I've held, it felt smooth. It is probably one of the top most EDC knives I have owned, among thousands.
I liked how lightweight it felt in my hand. The handle also felt smooth yet with a good grip. The G-10 scale has always been reliable handle material in Spyderco knives. Although it looks smaller, you can easily hold it in your entire hand.
I also liked the sharpness of the blade. VG-10 seemed sharp around the edge with hard steel and stayed in place. It is also one of the best EDC blades for carrying out EDC tasks. Therefore, even if you do not require specialty tasks, you can still carry a Dragonfly for daily use. The blade is leaf-shaped starting from the spine towards the tip, and came without any scratches on it. I also liked the belly of the blade, capable of slicing through paper and for precision cutting.
The finger choil felt comfortable in my hand, not too sharp. There is jimping on the base where the blade sharpens, making the operation smooth. It also makes a full finger choil. The jimping on the back along the thumb rail is also nicely done. The jimpings really lock in your thumb and index finger to work in sync. It is also a slip-proof design, as I felt when I held it.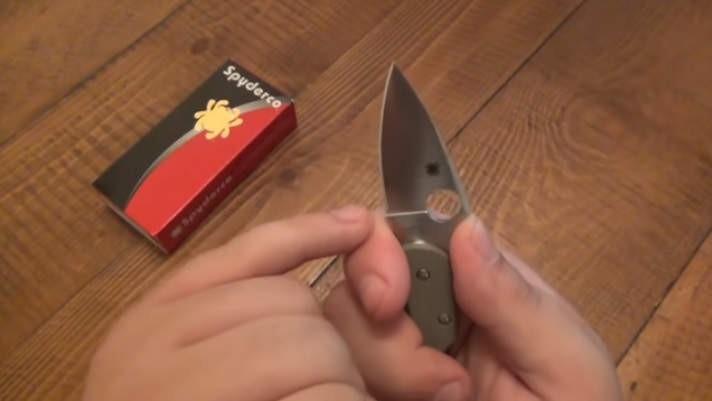 I liked the fact that the Spyder Hole's place was slightly shifted. It is placed a bit away from the pivot and the blade edge, if we compare to other Spyderco knives.
It opens manually and swiftly with one thumb or index finger. The positioning between the opening hole and the pivot makes it opening a lot easier. It somehow applies less pressure to your wrist. So I liked this new adjustment.
This is how the mid lock back or back lock looks like. The steel liners do not leave any space between the edges, with the blade pointing upright. It gives a smooth look and cleaner shape to the knife. It also makes cleaning the knife easier, since it is easy to prevent rust from outside than inside.
The Blade of Spyderco Dragonfly
The VG-10 blade can have some tarnishing.
However, there is a premium polishing paste that you can use without tarnishing the Spyderco label.
The cusp on the spine however, is comfortable to hold. The finger choil does its job well.
The Japanese VG-10 stainless steel contains 1% carbon, 1% molybdenum, 1.5% cobalt, 15% chromium, and 0.2% vanadium. Originally designed by Takeful Special Steel Co. Ltd., VG-10 was originally developed to be used in Japanese chef knives. However, their popularity permeated the folding knife and sports cutlery market. It is a popular material used in many Spyderco knives, including Delica 4.
The composition of VG-10 makes it a hard blade. However, it can be equally tough to sharpen, but worth the result. It becomes sharp enough to make EDC tasks a breeze. VG-10 also has a strong edge. It has enough edge retention to carry through cutting tasks for longer periods.
I also like the simple design of the blade, which is also excellent for performance. Although the blade is hardly a show-off, it is functional and practical.
The blade thickness of .093″ allows for heavier cutting tasks. As it thins towards the edge, maintaining edge retention, it allows the edge to remain sharp and easy to punch through.
VG-10 of the Dragonfly is suitable to carry while camping, hunting, fishing, or carrying out food preparation tasks. Although, its blade size of 2.3" may get in the way, it probably won't disappoint performance-wise.
Overall, VG-10 provides good value for money.
Handle and Ergonomics of Spyderco Dragonfly
I like the G10 handle scales the best on Spyderco. I have never had any complaints regarding the material. The finishing of the handle is also very fine for slip-free sturdy grip.
My preferred carry patterns are inside the pocket by clipping it from outside, or regular pocket carry.
The handle is small enough to slide my finger over the pivot area to draw the knife soon after taking it out of my pocket. This method is fast and secure.
It also grips well in my hand with the fingers, making it suitable for making precise cuts. The blade is sharp, hard, and thick enough to make cuts inside raw meat. And the control that the handle provides makes it easier to make precise cuts.
All these things together gives the feel of a slightly larger handle, even though it is only 3.19". That makes size irrelevant, and makes the knife ergonomically sound.
Saber, Edge-Up Saber, Choked-Up Grip, and Edging Grip are four of the ways to hold this knife for different tasks. The edging grip is perfect for cutting fruits and vegetables. Saber works well when cutting smaller items like celery or sticks. The edge-up saber provides further control and grip over the cutting task. Lastly, chocked-up grip works well when you are cutting something while holding it in your hand. It can be fruits and vegetables, or pipes and ropes.
The Back Lock of Spyderco Dragonfly
Spyderco back lock knives offer one of the simplest opening and closing action with one hand. Whether you are right or left-handed, you can simply open the lock with your thumb, and close with your index finger.
I like the simple back lock because there is no blade play here, and the mechanism is simple and easy. The G-10 scales also make it easy to slide your fingers over, flip the blade to disengage it, and then close all the way in with your index finger.
The lanyard hole is secured and reinforced with the stainless steel tubing. It makes sure the knife stays together.
My Experience with Spyderco Dragonfly
I especially liked the ergonomics of the knife when I first started using it. It easily fits in all the different ways in my hand, whether left or right. Its opening and closing action also remained smooth throughout the time I used it. It even got smoother over time with use, yet rock solid without any blade play whatsoever. The blade also stayed in its place stiffly despite usage over the years. So that's a good thing. When closed, the blade does not coincide with anything inside, keeping it protected and sharp. It required sharpening less frequently than I had anticipated, but was a challenge when it did need sharpening. The blade also retained its shape and appearance. It is still quite lively and nice.
Its weight was also comfortable. It did not feel like I was carrying anything. I found it especially useful when I am somewhere I cannot carry a large knife because of all the other stuff. It allows lightweight carry and packing when traveling.
The fit and finish, even after years of usage, did not falter. Although it did require cleaning and maintenance. It still has a good grip and is firm as the first time I had bought it.
I also liked the fact that it did not show signs of rust after years of using it, as you can see in the image. One reason for this is that it was easier to clean, considering everything that needed cleaning was outside without the need to open the knife. Even though you can still unscrew and disassemble the knife for thorough cleaning to avoid rust, wear and tear. However, Dragonfly did not require it.
The only downside of long-term usage was some discoloration of the foliage green on the scales. It also developed tiny marks, although not too apparent. However, that does not discredit the knife at all. It is the least one could expect from a good performing knife. But it seemed reasonable to point out, since some people may have an issue with it.
Some people with small hands found it even more comfortable. Given the size of the knife, it only seems reasonable. The same people also prefer other Dragonfly variants, including Dragonfly 2.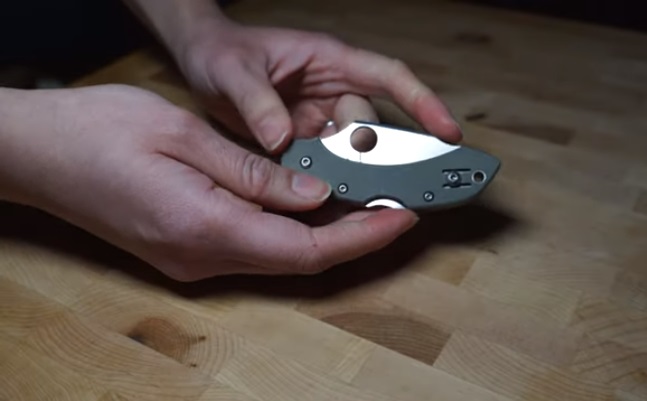 Comparing Spyderco Dragonfly1 with Dragonfly 2
The comparison between Dragonfly 1 and 2 is imperative for Spyderco Dragonfly review. The Dragonfly 2 comes with FRN handle as opposed to G-10 scales. But it does have the same VG-10 blade as the original Dragonfly. The price range of Dragonfly 2 is also close to the original. It is also a bit bigger than the original Dragonfly, and some people are happier with that. However, both knives have the same wire clip with tip-up carry and ambidextrous clip position.
One thing that I did not expect from Dragonfly 2 is that it is lighter than the original, weighing only 1.2 oz. I half expected it to weigh more, since the size and blade thickness of the second generation is bigger than the first. The blade thickness of Dragonfly 2 is 0.098" as opposed to original Dragonfly's 0.093". Although the difference is negligible to the naked eye, it does affect cutting strength to some effect.
I also found the belly of the blade on Dragonfly 2 to be larger than the first. Therefore, it may be capable of more precise cuts than the original.
The preference between the two knives only depends on whether you want to experiment with the newer version of Dragonfly 2. Otherwise, I feel pretty satisfied with Dragonfly 1 to carry out my EDC tasks. If you are a knife enthusiast, then you may want to try it yourself to feel the difference.
Comparing Spyderco Dragonfly with Delica 4
Spyderco dragonfly and Delica 4 share a lot in common in terms of features. It also comes with VG-10 leaf-shaped blade from Japanese origin, ambidextrous clip position, and back lock.
At the same time, it also has many differences. It also comes in FRN handle scales, whose ergonomics are not as good as G-10.
Moreover, although Delica 4 shares the same locking mechanism as Dragonfly, it is not the smoothest operation. There is some blade play where the finger comes in the way of the blade's closing action.
The finger choil on Delica 4 is also sharper and edgier than Dragonfly. It also only has upper finger choil, and missing from the bottom.
Therefore, Dragonfly is definitely a better alternative to Delica 4. You can read the review of Delica 4 here, and compare it for your own satisfaction.
Concluding Thoughts on Spyderco Dragonfly Review
Spyderco Dragonfly review would have been incomplete without covering its first impression, blade, handle and ergonomics, personal experience and comparison with other knives. At first look, the knife may seem too small and lightweight for EDC tasks. But over time, we realize that it does not get in the way of its performance.
The blade, VG-10 is a good blade material in terms of hardness and edge retention. However, it is challenging to sharpen. The upside is that it requires sharpening less often.
The ergonomics of the handle are great. It is grippy and allows a firm grip. It only showed slight discoloration after years of use, but that does not discredit the knife.
Upon close inspection, we find that dragonfly is a good knife in terms of value for money and compared to other Spyderco knives for Sale.
FAQs
Is Spyderco Dragonfly good?
Spyderco Dragonfly is an excellent EDC knife, easy to carry with a sharp blade.
Is Spyderco an EDC leader?
The innovative blade designs and constant quality upgrades make Spyderco an EDC leader in the folding knife industry.
How much does a Dragonfly weigh?
The original Spyderco Dragonfly weighs only 2 oz. making it easy to carry.
Is Spyderco a good brand?
Spyderco is one of the top choices among knife enthusiasts when it comes to folding knives. It produces high-quality knives in collaboration with custom knife manufacturers and has distributing channels across the globe.