Spyderco Manix 2 XL is a big knife with best blade, good ergonomics and performs all types of edc tasks. Read complete Spyderco Manix 2 XL review.
Before writing a review for Spyderco Manix 2, I did a careful analysis and evaluation, as it comes in many different variants of its own. It is a sprint production run knife by Spyderco, produced in the Golden, Colorado factory. It is available in different blade steel types, handle materials, blade edge types, colors, and even a lightweight version. Therefore, their prices also vary accordingly. There are also some variants available exclusively (with limited stock), and those that are now discontinued. So selecting a variant and I have selected Spyerco Manix 2 XL. Why I have not picked Manix 2, you will know as you scroll down!
S30V, S90V, S110V, Carpenter CTS-BD30P, CTS-BD1, CTS-XHP blade steel
a plain, partially serrated or fully serrated blade, or black DLC-finished blade
G-10, Edgetek FRCP (fiberglass reinforced co-polymer) handle scales
available handle colors: dark blue, blue, gray, black, orange, & brown
You can also find many of these variants in the form of 'sprint runs,' or limited production runs using different coatings and steel blades. The lightweight version, for example, has pretty much the same features, except for CTS BD1 Carpenter steel and fiberglass reinforced co-polymer handle scales.
However, we will be focusing on the mid-range Manix 2 XL that is unusually large in size compared to its other counterparts (namely Manix 2) because of its 4" long S30V blade with G10 scales. Although its actual price is $274, you can find it within $191 + free shipping and you will get 2 free items as well.
History of Spyderco Manix 2
Before starting Spyderco Manix 2 XL review, its important that you should know its back story. Spyderco knives is one of the leading knife manufacturers in Golden, Colorado, US, founded by Sal Glesser and his wife Gail Glesser. They have a history of producing excellent knives for knife enthusiasts, military and law-enforcement personnel by collaborating with custom knife designers. They also have factories in China, Japan, Taiwan, etc. with a worldwide distribution network.
The first Manix folding knife hit the market back in 2004, which featured G10 scales and S30V blade. It was a hit, and so Sal and Gail's son Eric Glesser designed the Manix 2 series and released in 2009.
However, the distinguishing feature of Manix 2 was the ball-bearing lock that performs exceptionally well. However, the initial Manix 2 knives had an inferior blade material of 154CM and the users were not impressed with it. It upgraded to S30V in 2012 without raising the price! Thereby making it a great knife. Meanwhile, the 154CM was discontinued. ( Got the picture )
The crucible S30V was the invention of Dick Barber of US-based Crucible Materials Corporation, and a custom knife maker Chris Reeves. It is way more corrosion and wear resistant than the 154CM and constitutes of vanadium carbides. It makes the blade harder with a more refined cutting edge. It increases the performance of the blade.
Spyderco Manix 2 XL Review
The Spyderco Manix 2 XL is a large-sized version of the Manix 2 with a 4" blade locked open using its Trademark Ball-Bearing Lock. The lock's mechanism is such that it is encased inside a high-tech polymer cage with a free-floating steel ball. So when you open the knife, the ball-bearing moves into the blade's ramp where it wedges out, safely opening the blade locked into position.
The blade is CPM S30V with a full-flat ground and a jimping above the Spyder hole of 14mm, which is also oversized compared to the original Manix 2.
The G10 handles enclose liners that extend beyond them pattered around the handle for extended grip. It also allows a firm grip while wearing gloves. The liners offer both rigidity and strength to the handle without overbearing it with weight, making it easy to handle. The ambidextrous three-screw clip offers a Tip-Up Carry Position to hang it comfortably in to the pocket. The Manix 2 also features a large lanyard pipe to protect thongs or cords.
The Manix 2 XL is of US-origin with an overall length of 8.94", which is larger than a regular 7" folder knife. The blade length is approximately 3.9" (not exactly 4" as originally claimed by Eric) with an edge length of 3.4". The blade thickness of 0.13" however, is less than most regular knives. Its weight, on the other hand, is around 5 ounces, making it heavier than a regular 4 ounce folder.
Just as always, we proceed with key specifications of a knife under review, so you should know, what it is and what to expect from it?
Key Specifications of Spyderco Manix 2 XL
First Impression of Spyderco Manix 2 XL
The first time you hold the Manix 2 XL, you will feel the bigger size of its handle. Its bigger than other Spyderco knives. Another thing you will feel is its weight – though not uncomfortably heavy, but it is definitely heavier than the Manix 2 Lightweight and Paramilitary 2 weighing 3.8oz. Although, it is acceptable and easy to carry because it is well-made with exceptional ergonomics.
It is also surprisingly sturdy and tough. I also experienced holding it with gloves, and I did not have any problems reason being 5 inches of handle length. It was in fact, easier to have a firmer grip with gloves. The over-sized Spyder hole, the aggressive jimping on the thumb ramp, and the liners all make sure that the grip is firm and sturdy in any kind of gloves and weather conditions. The XL size also provides extra room around the handle to hold it while wearing bulky gloves. It is also a great fit for bulky or large hands.
Therefore, if you are outdoor enthusiast and a knife freak, Manix 2 could be a great choice for you. The G10 handle is perhaps the best handle material Spyderco could use, providing a clean finish and elimination of accumulation of dirt while holding it. A low-quality handle material may require more regular cleaning for better functioning.
If we compare the size, it is almost the same as Spyderco Tenacious, but a bit smaller than Spyderco PM2. The moment I held the knife, it fit exceptionally well, hugging my hand and felt like an extension of my fist.
The bottom of the thumb hole declared the knife's origin just like all the other Spyderco knives made in Golden, Colorado, USA, Earth, depicting the knife's authenticity.
On the back side, there's another inscription that states the steel type of the blade: CPM S30V. Although it is also available in BB1 iron steel, it is inferior to S30V in $20 less. The S110V is a slightly superior steel for about $40 more. Therefore, you can choose whatever steel you like. I like the fact that it comes with such options. You can choose whatever steel material you want in whatever price range that suits you.
The blade is not too thick neither too thin, which is nice. I half expected this knife to be beefier, considering its size and weight.
As you can see, the blade is thicker from the handle up and thinner towards the tip, making the tip sharp enough.
The belly of the blade is also smooth and meant to cut through nicely. On top of that, I like the blade finish, especially because it was devoid of scratches.
Moreover, there is no part of the knife that the steel liners do not cover. They are also appealing to the eye in terms of build. The metal block covering the inside of the knife holds the ball-bearing lock.
You push the ball-bearing to close and open the knife, which is a bit new and unusual in Spyderco knives.
If you leave the ball-bearing open, the blade will swing around. If you close it, the blade will lock securely. It is because of the spring inside the ball-bearing. It kind of looks like a button, but you have to move it around with the tip of your thumb to open and close the knife.
If you like, you can use both your hand and the ball-bearing lock to flip it open and close, and works well with left and right hand. It can take some getting used to if you have not had the pleasure of experiencing a ball-bearing lock before. However, it operates smoothly. I did not experience any problems with it. Perhaps I'll get more used to it over time.
However, the disadvantage of the spring ball-bearing is that it can get loose over time. It is already very smooth, but with time the spring can give way. And if it starts to rust, then the lock may stop working. But we'll see how it works over time.
On the other hand, the knife feels solid in my hand and the blade is screwed well in the middle. I tried tapping it against the surface to see if it will give way, but it held its own pretty well.
Another thing I like about Manix 2 is that it is completely ambidextrous. As you can see at the back of the knife handle, the ball-bearing lock has the spring opening on both sides, making it equally flexible and hand-friendly for lefties.
The Blade of Manix 2 XL
The blade, as mentioned before, is that of high-quality S30V, regarded as one of the best in the market by blade experts. Personally, I feel the same way, I think it's an excellent choice for an EDC, given its performance and price.
Although high-quality steel materials such as this are harder to sharpen, given the plain edge and flat ground on S30V of this version, you wouldn't need to sharpen it too often. But if you do, it might take some effort, which is completely worthwhile.
Moreover, the blade is corrosion and wear-resistant, which I love. I also love the full-flat grind on the blade, which works well for slicing and dicing almost anything, from paper to cardboard boxes and dry wooden sticks. Another plus point is the edge retention. It will maintain its edge retention even long after you have used it in the field.
The leaf shape of the blade, which is pretty common among Spyderco knives, is rather thin. So you may need to be careful when solely carrying out tip tasks, like opening up a bottle cap. Although it has enough resistance, it may lose its excellent edge.
Spyderco Manix 2 XL Ergonomics
The handle of Spyderco Manix 2 xl features the exceptional G10 scales, accompanied by stainless steel liners. However, the liners are not skeletonized, adding strength at the expense of weight. It is a good thing though, because it means that lesser probability of dirt and debris accumulation, requiring less frequent cleaning.
It is, however, a common combination for Spyderco pocketknives, perhaps the best there can be. So no complaints here as long as the handle material and liners are concerned.
It also feels soft in the hand with a nice texture, not too aggressive, and plain matte black finish. Another reason why I specifically chose the Manix 2 with black handle was its lesser probability of wear and tear. Other colors may not have as good finishing as it does on black handle scales.
It also provides excellent grip with ample room to move your hand towards the top for aggressive or neat tasks.
The handle also features two large finger choils, excellent for precision cutting. I love that Spyderco made good use of the XL size to add this feature. It also feels quite comfortable in the hand. And as mentioned before, the jimping along the thumb ramp is excellent where it meets the finger choil. It also makes the knife less slippery, even if your hands are sweating while using it.
The lanyard hole  is another thing that I love about Manix 2, which is ample for most common lanyards available.
Lastly, the picket clip may not be four-sided, but it is reversible and allows tip-up carry ambidextrous position. Its fix and finish is also not a problem. It is sturdy with good finish.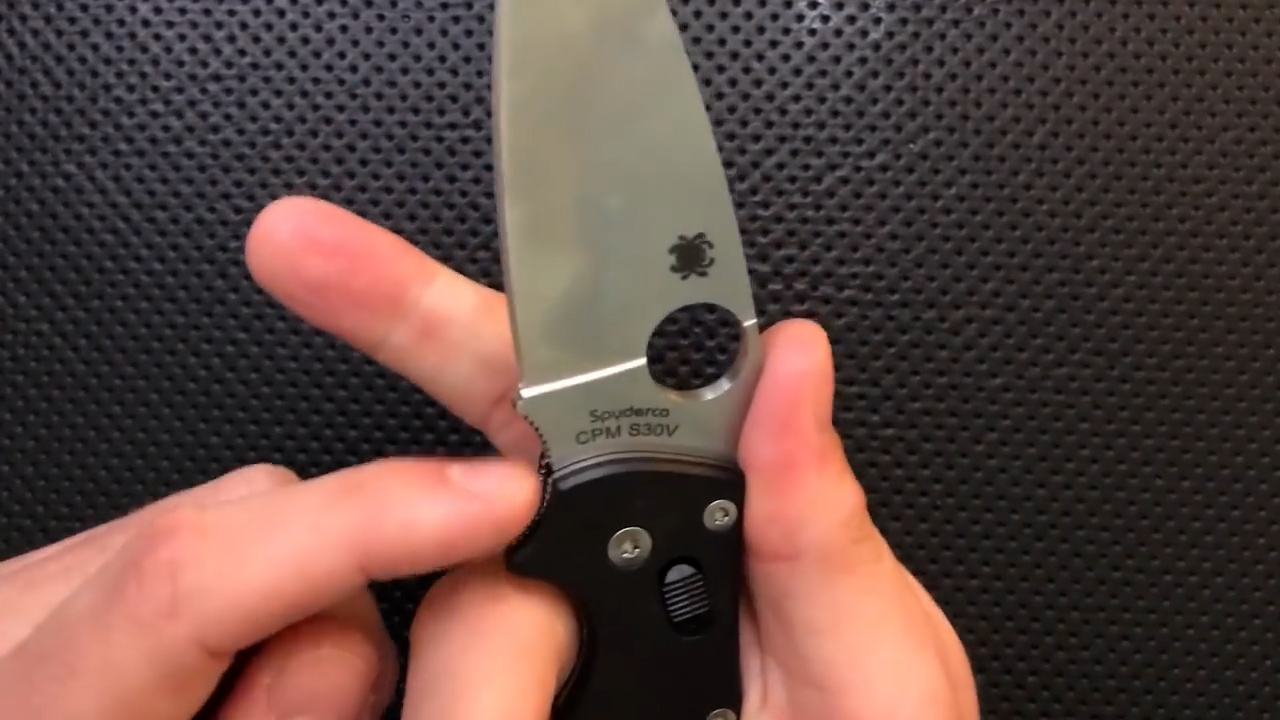 Spyderco Manix 2 XL's Ball-Bearing Locking Mechanism
The ball-bearing lock on Manix 2 is unique for a Spyderco knife. The ball-bearing itself means spring lock, which I think is a great choice for folder knives, considering it flips open and close. The locking mechanism was made using this thing in mind, and it truly is made for the hand. It functions as smoothly as if it was already a part of the hand.
The ball and the spring of the lock are caged in polymer resin holding the blade in place. The spring expands as you open it, and contracts as you close it, jumping back into position.
The lock also supports safety of the hand without letting the hand get in between the blade and the lock. It is an excellent precautionary measure, especially for single-hand knife operation. However, opening and closing with one hand too many times may hurt your muscles between the thumb and the index finger.
If you keep doing it for long, you will not have enough strength left to open it all the way with one hand.
However, I would consider this as a drawback. If we look at it from the manufacturing point of view, the spring had to be made steady to prevent locking failure. Therefore, I would suggest occasional one-handed operation.
My Experience with the Spyderco Manix 2 XL
The Spyderco Manix 2 review would be incomplete without using it for some time. Although the features of this knife seem great, let's test it out in the field.
I started my field test by scrapping dry wooden sticks, and cutting through them. The knife showed excellent results. It also retained its grip without getting dirty, even in the woods.
It supported 3-finger grip due to ample area on the handle.
The blade passed the sharpness and edge retention test with flying colors. Cutting though the wood for chopping purpose was fulfilled. I did batoning with a folder for first time, and nothing happened to it. Batoning is common for survival knives like I did with Fallkniven S1, but with a folder and it keeps working afterwards is mind blowing for me. You can keep it as EDC and it turns out, you can use it during your camping.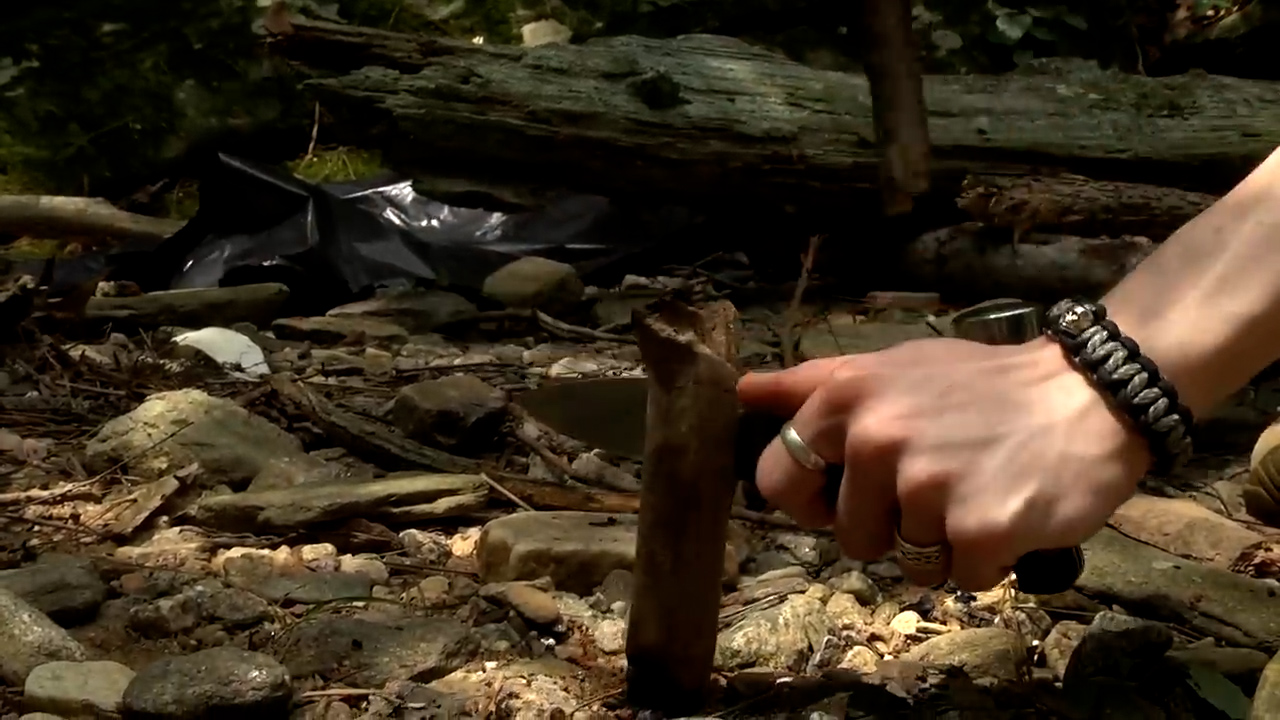 In fact it is easier not to overestimate a pocketknife, and use another wooden stick to hammer on to the blade for effective cutting job.
The finger choil of the knife was exceptionally safe and did not cut through the finger no matter how heavy the job, or how tightly I gripped it. Due to the large size of the knife, the finger choil was large enough to hold it however I wanted, and it did not give. Also the blade remained rock solid, even after heavy usage.
The knife scrapped wooden scraps and chips, useful for starting a small fire in the woods. If you are an outdoor adventurist, this knife is a great choice for use in the field over long periods. The blade retained its sharpness for the length of the test, which I loved. Otherwise, it can get frustrating if you have to sharpen it in between.
The handle also remained clean for the most part. At least the dirt did not accumulate between my hand and the handle, which made the job trouble-free.
I also tried to dig hole in a thick, hard and fat piece of wood via the edge to check its retention. Although it took some hard work, it wasn't impossible. The Manix 2 did not disappoint me here as well. However, the job may require some technique. If you are an expert woodcutter, then you would know what I'm talking about. If you do it for the first time, however, you may end up blaming the knife.
I was able to scrap a hole in the dense piece of wood easily. The lockup also did not get in the way. The blade also retained its hardness and held still without moving. The steel liners held the knife pretty well.
I was able to cut the wood shaving with extreme ease.
The weight of the knife proved to be useful, as it breezed through the task.
The ball-bearing lock came in handy when I was able to lock it in pivot position while performing the task. You can basically lock the knife in position however you want, as per the task. I loved this part of the knife.
Comparing Manix 2 XL with Manix 2
Spyderco Manix 2 review calls for the much anticipated comparison with its obvious counterpart, the Spyderco Manix 2 XL.
The differences between the two knives are largely due to size. The blade length of Mnaix 2 is 3.4", as compared to XL's almost 4" blade length. This is probably the only thing that has people divided over the two knives. Some prefer the Manix 2 because it's smaller and hence, weighs slightly lesser, aka, 4.9oz. The blade, handle material, clip position, and lock type are the same. Even the blade thickness of 0.13" is the same, so there is no issue of the beefiness of the blade.
On one hand, the Manix 2 fits perfectly in your hand. On the other hand, the XL has ample space on its handle to hold. Although you do not have to worry about your hand slipping from the XL, some people may still prefer the Manix.
Price is another factor in the mix. While Manix 2 XL falls in the $100 range, Manix 2 costs less. So, it may come down to the price. If you do not prefer a larger knife, Manix 2 will work just as fine. However, I would personally prefer the XL version, given its flexibility of holding, and the fact that I could use it for a really long time, providing great value for money.
Preference given to Spyderco Manix 2 XL
Concluding Thoughts on Spyderco Manix 2 XL
My entire experience of Manix 2 XL, from first impression to overtime usage has been great. I think it was great of Eric Glesser to add the S30V steel blade without raising the price, making it more competitive.
I also liked the flexible ball-bearing lock, especially because I can lock and hold it in a pivot position. My fears about the spring giving way and rusting proved to be untrue during testing, which put this knife in my good graces.
The handle and ergonomics of Manix 2 XL are exceptional. The G10 handle scales are another great addition, with matte black finishing. I also prefer Manix 2 XL over Manix 2 because I can hold it in varying positions. I also prefer it over Spyderco Shaman because of the price difference, and because I have zero complaints with this knife.
FAQS
Is Spyderco Manix 2 good?
The Spyderco Manix 2 has got it all – exceptional performance, good ergonomics, and a sharp S30V steel blade.
What is a Manix 2 XL?
The Manix 2 XL is the oversized version of Manix 2, with a blade length of almost 4" and a unique ball-bearing locking mechanism.
Is Spyderco reverting to S30V steel on Manix 2?
Yes, the Spyderco reverted to the S30V steel blade back in 2012 for exceptional performance without raising its price.
Is Spyderco a good knife?
Spyderco's trademark Spyder hole makes the knife easier to deploy for one-handed operation. It uses various materials for its steel blade and handle.