Spyderco Tenacious is made in China, and its 60$ linerlock knife with G10 handle scales because of the lower production and labor cost in China. Does it stand a chance against quality and functionality against other Spyderco's?
Spyderco released its affordable signature folding knife back in 2008 as part of its value folder series with 3 different blade edges. So far we have been discussing the high-end premium knives by Spyderco, but now it is time for Spyderco Tenacious review, and we want to see if it is as good as its premium counterparts.
Spyderco released Tenacious in three different blade types: Plain Edge, serrated edge or both, with full-flat grind, drop-point blade, with G10 knife handle, 8Cr13MoV stainless steel, and the Trademark Round Thumb hole for one-hand ambidextrous operation. The knife's origin is China, and is priced around $40. Although Spyderco's official site enlists the price as $86.
You can find a vast collection of Spyderco Knives for Sale with lowest prices at Chicago Knife Works. And Yes, as for Spyderco Tenacious  you can get it for 60$ + Free Shipping. If you find it somewhere else in USA store at more cheaper price do let me know.
Now you might be wondering if Spyderco cut corners to compromise on quality and price, as opposed to other knives by the company. That is what we are here to find out with Spyderco Tenacious review.
Tenacious seems like an amazing knife for its price and quality. You get the same fit and finish, quality materials, and style that you would expect from a knife from Japan origin. However, there are some distinguishing features of this knife.
The knife was named Tenacious because of it being a game changer in the knife industry. It has a hard enough blade with a superior blade steel quality, and secure grip of the handle, which seems ergonomically sound.
Key Specifications of Spyderco Tenacious
Spyderco Tenacious Review
The Tenacious is a full-sized folding knife with a skeletonized steel liner lock with G10 handle scales screwed into the knife that provides it a good rigidity with a spread out weight. It features a four-way adjustable pocket clip for deep carry. You can also get it in different colors, although I like the texture of black scales much better, as it is soft yet smooth and firm.
However, if you want a smaller version of the knife, then you can check out Spyderco Delica 4 Review.
The best thing about this knife is that it comes in straight or serrated edge, or a combo of both, providing the best of both worlds, and a satin finish. If you need a versatile knife for a variety of tasks, I would suggest the combination edge. Serrated edge is usually best for carrying out tougher tasks. However, it can be challenging to sharpen as each serration needs sharpening separately, and requires regular cleaning.
On the other hand, if you do not require regular cutting through heavy objects, then plain edge will work just fine.
Spyderco Tenacious is a practical knife for EDC tasks, and small enough to carry anywhere. Therefore, it could be a good choice if you are looking for flea market rate pocket knife that is budget-friendly and carries out everyday tasks seamlessly.
Unboxing and First Impressions of Spyderco Tenacious
Spyderco Tenacious came in its standard packaging just like the rest of the company's knives. It shares a lot of features with the other knives, including the round thumb hole with the Spyderco logo etched around it. I especially liked the fact that the round hole protruded right out of the handle, which makes deployment easier. It also lets the finger out of the way of the blade when closing it.
Although Tenacious is a slightly larger knife than other pocketknives and falls in the mid-tier knives, I found it quite lightweight. The construction and design felt sturdy and firm in my hand, and I was able to grasp it with my entire hand. Although some people have complained that Tenacious is hard to open, I was able to flip it open smoothly in one swift motion with a satisfying 'clunk'. So my first impression when I first held the knife was positive.
The large size of the knife however, leaves the impression that it was made for people with larger hands. At the same time, people with small hands have the advantage of holding the blade from the bottom and top according to the cutting task at hand. If the cutting requires precision, you can hold it close from the blade.
The jimping on the back of the blade also seemed nicely cut seamlessly integrating with its 3.3" blade.
G10 handle felt smooth and slick without any wear and tear with fine finishing, even after purposely scratching it for testing.
And if we look at the other side towards the pocket clip, its ambidextrous 4-position clip position holds its own.
The liners inside the scales hold the blade sturdy and aid in seamless opening and closing of the knife.
The blade thickness of 0.12" is as on any other standard pocket knife.
The blade felt sharp right out of the box, and can cut through a thick sheet of paper with smooth ease.
Spyderco Tenacious seems capable of cutting through heavier objects.
Blade of Spyderco Tenacious
Spyderco Tenacious review will be incomplete without reviewing its blade. The blade's length and thickness makes it a good standard blade for more nuanced jobs. It has a leaf-shaped blade, and adds more strength from the thicker spine. The jimping – small indentations at the back of the spine – provides better control and grip. The texturized top of the blade also provides more control and traction when gripped firmly.
The belly of the blade is also good enough for slicing through objects. The full-flat grind leaf shape makes it easier to sharpen. Even though the blade was sharp enough when bought, it seems to retain its sharpness through smaller tasks.
The blade material 8Cr13MoV may not be the most superior, but then again the price factor comes into play. If Spyderco uses, let's say, CPM S30V or S45V, the price will shoot up. This knife was designed to be pocket friendly, and able to carry out EDC tasks, which it does. Some regular knife users or knife enthusiasts may not be too thrilled with the blade material, as it is not exactly scratch-resistant. Therefore, heavy usage may tarnish the blade, hence requiring regular cleaning and sharpening.
The squeaking of the blade while opening and closing may not be the most appealing to most regular knife users. However, it does not seem to bother me, as long as its deployment is smooth, and it remains open when I open it and closes at the right spot, which it does.
If you want a knife with a slightly superior blade, you can opt for the Spyderco Paramilitary 2, and read its review here. However, you would have to pay up to $150 for it.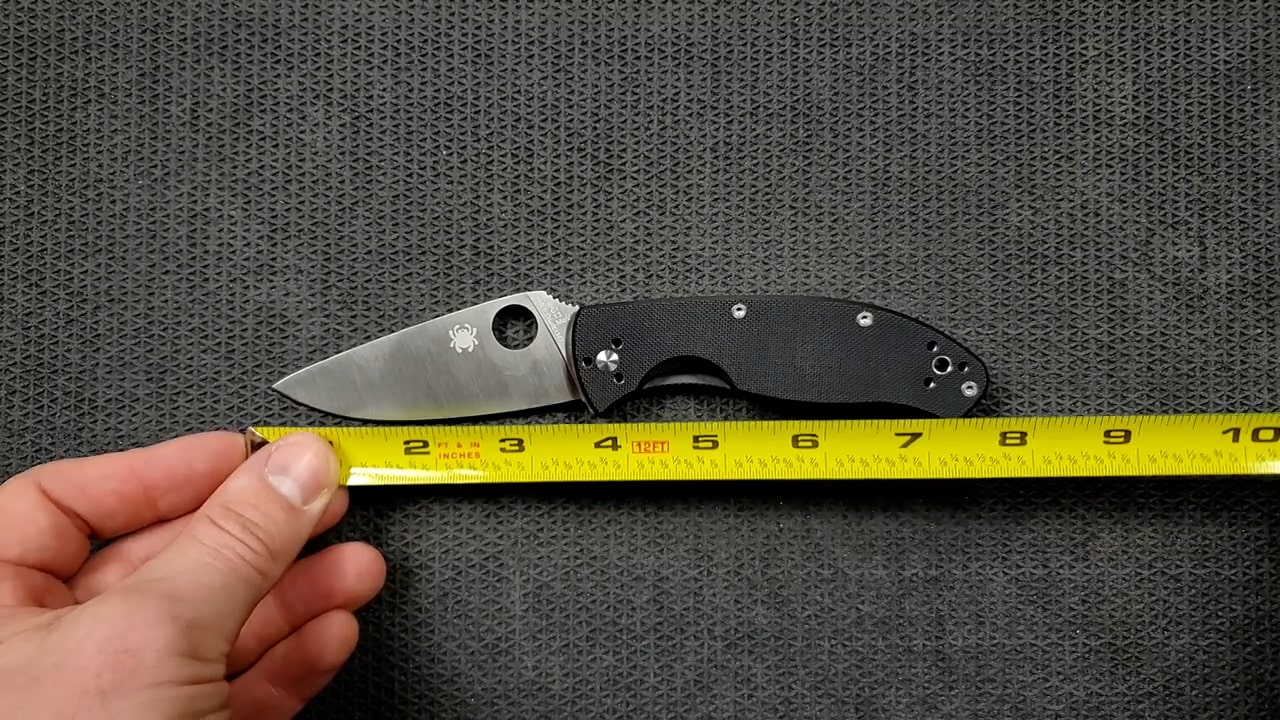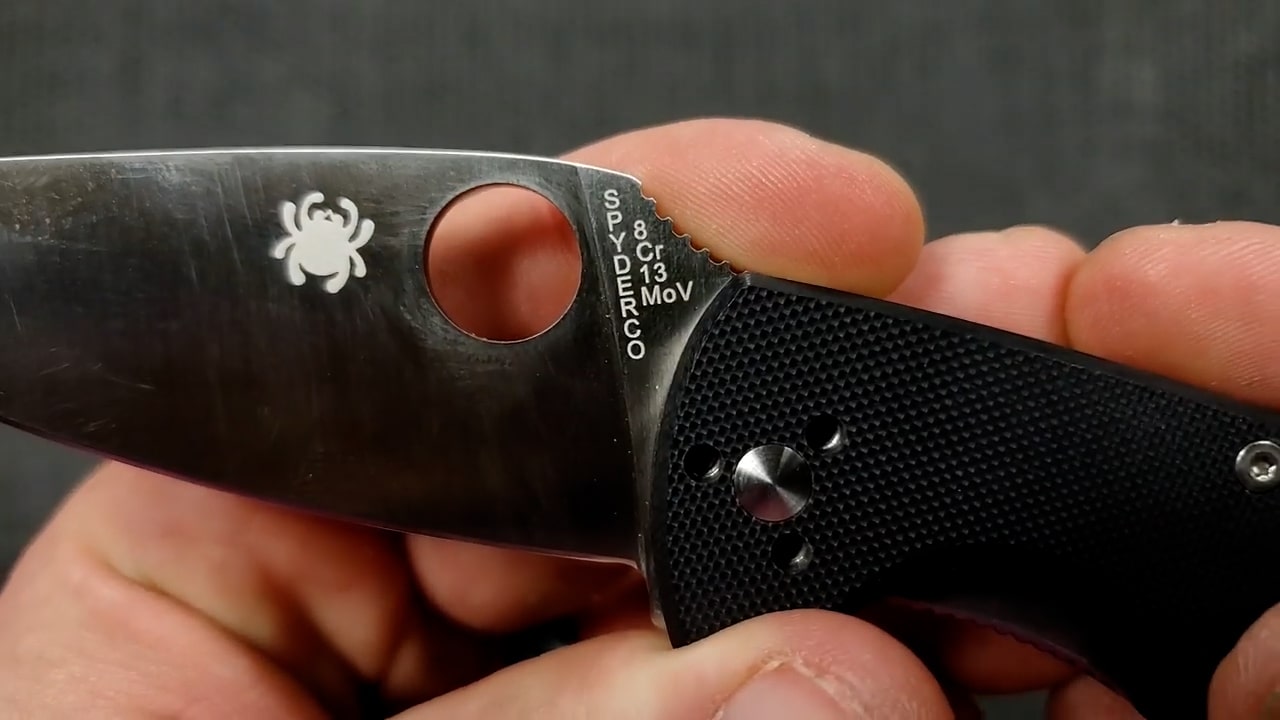 The Handle and Ergonomics of Spyderco Tenacious
The handle of Tenacious made out of G10 laminate makes it lightweight yet strong. The skeletonized steel liners make it even stronger. It fit comfortably in my hand.
The pocket clip is also sturdy and fits well in my pocket. It can be extended in 4 ways, and yet not bulky.
The three screws around the edges of the pocket clip enables it to turn in 4 directions, with the ability to hang the knife inside or outside the pocket.
Tenacious also has a lightweight C122BK with Fiberglass Reinforced Nylon (FRN) scales that sheds some of the weight off of the knife and adds style.
Therefore, if you are looking for a more lightweight folder, then it can be a good buy.
The lanyard hole is exceptionally well, even though some people may critique it coming out of the knife, extending its length.
The ergonomics may not be great for those who love stainless steel knives. But it is good for early knife users, and 'made for the hand,' as the motto of Spyderco goes.
The Tenacious does not have a finger choil. However, that is not an issue as it does not get in the way of fine knife operation. Spyderco Para 3 and Paramilitary 2 however, have very comfortable finger choil, since it is rounded and not sharp for the thumb holding. But at the price of Tenacious, it is a pretty good deal.
Spyderco Tenacious Deployment & Locking Mechanism
The Spyderco Tenacious review must cover the liner lock. It opens with a thumb hole and closes with a liner lock. Furthermore, the liner lock is textured, which allows more control, and makes the knife super easy to open and close.
However, the thumb hole may withdraw after opening and closing it several times, and get snagged. But it happens very less often, and overcomes soon enough.
The liner lock derives from the Walker Linerlock, invented by Michael Walker. It is good for easy one-handed operation, whether you are right or left-handed.
Plus, the jimping is clean at the notch, enabling better grip. It also ensures safe operation by keeping the blade in place when opened and when closed.
Therefore, the lockup seems pretty solid without any major flaws in operation. However, there are better locks than the liner lock, like the compression lock, which would bear a higher rating.
My Experience with Spyderco Tenacious
After using Spyderco Tenacious after 4 years, it still seems to be in a good shape with good edge retention and sharpness. Although it required regular sharpening and cleaning. If I hadn't maintained it as well as I did, it may not have been in the same shape.
This is how the knife looks after extended usage, with some wear and tear around the edges, and around the pocket clip, not too bad for a knife of this caliber.
The blade also has some scratches because of long-term usage, which is not surprising since the blade wasn't exactly scratch-resistant. But that did not stand in the way of the blade's performance. I pretty much delivered however much I expected out of it.
Even when I am not using the knife, I like to flip it open and close when I'm deep in thought. It helps me relax, which is the one thing common in all Spyderco knives, and Tenacious did a smooth job each time.
However, it wasn't exactly convenient for me to carry everywhere despite my first impression of the knife. I discovered that I liked to carry a slightly narrower and smaller knife. Though the weight of it did not affect me the same way, since it is quite lightweight. But I did use it enough times, and placed it elsewhere other than in my pocket. Even when I do carry it sometimes, it holds comfortably. I usually hang it around the waist of my pants, the belt, or the back or right pocket.
As you can see, it accumulated quite a bit of rust at the back.
I also found this knife very useful for food preparation. Whenever I was not out, I used it as a kitchen knife, with exceptional results. The full-flat grind is the best for EDC and food preparation. The belly of the blade made it easier to cut fruits and vegetables with precision. It is also what makes it easier to sharpen.
It has a nice sweep quality to it, making cuts smoother.
On the other hand, heavier tasks like cutting cardboard pieces required some strength and pressure. Even though the knife did a good job there as well.
Spyderco Tenacious Vs Paramilitary 2
Despite the massive price difference between Paramilitary 2 and Tenacious, the two knives are constantly compared with each other because of their similar outlook.
Spyderco Paramilitary 2 is narrower, with a firmer compression lock than Tenacious' liner lock. Its blade is also harder and sharper, with a superior steel blade material of S30V or S45V, which is less corrosion-resistant than Tenacious.
However, the plus point of Tenacious is that it comes in serrated and combination edge option, along with plain edge. This quality places tenacious in the middle ground among other Spyderco knives with a mid-sized blade and an overall appealing quality to it. Tenacious also comes in more colors than Paramilitary 2.
The cutting edge of the two knives is also different. While the PM2 has 3" cutting edge, Tenacious has a larger 3.3" cutting edge. However, their overall length is the opposite.
Spyderco Tenacious has a rounder handle and smaller blade than PM2, making it smaller in overall length to PM2. The PM2 is overall 8.28" long as compared to Tenacious' 7.76". That makes Tenacious not as big a knife as it is perceived. In fact, it makes it more practical, easy to carry EDC knife.
So now you must be thinking why I should pay $100 extra for PM2 when I can get the Tenacious in just $60. The answer can vary from person to person. If you are a knife enthusiast and have used premium Spyderco knives, then you may prefer Paramilitary 2.
Spyderco PM2 is also better for heavier usage due to its superior steel, blade sharpness and hardness. However, if you do not want to spend too much on a folder knife, or only use one for practicality, then Tenacious is a better choice for you.
Comparing Spyderco Tenacious with Para 3
If we compare Tenacious with Spyderco Paramilitary 3, then we have to do the same with Para 3. The 3 knives deserve a fair comparison.
The most basic and obvious difference between the two knives is the price. Where Para 3 is towards the premium side of pocket knives priced at $125-$250, the Spyderco Tenacious costs quite less at $62. However, you may find the price of Tenacious going up by around $60 if you buy it today. ( Link mentioned in start)
Another difference is that of size. Despite the shape of the two knives, Para 3 is slightly smaller than the Tenacious. While Para 3 is 7.24", the Tenacious is 7.76".
Other than that, their origins also differ. While Tenacious is of China origin with 8Cr13MoV Stainless Steel, the Para 3 was made in Golden, Colorado, US with S30V and S45V steel material. Therefore, Para 3 cuts better than Tenacious and is more corrosion-resistant.
However, Tenacious is easier to sharpen than Para 3, but is heavier than Para 3. Para 3 weighs 3.4oz., while Tenacious weighs over 4oz.
Moreover, Para 3 holds well over time with usage as compared to Tenacious. Tenacious' wear and tear is more visible after extended usage than Para 3, which is more resistant to wear.
The price difference between the two makes all the difference. If you want a long wear knife with superior quality blade, then Para 3 might be the right choice. However, Tenacious is better for short to medium term usage.
Concluding Thoughts on Spyderco Tenacious Review
As you may have guessed from the Spyderco Tenacious review, it is an overall good knife for its price. It is a good EDC knife for light to medium cutting tasks for short to medium term usage.
But its lanyard hole is very small, as you may need a paracord. Similarly, I found the design of pocket clip very similarly to Spyderco Shaman.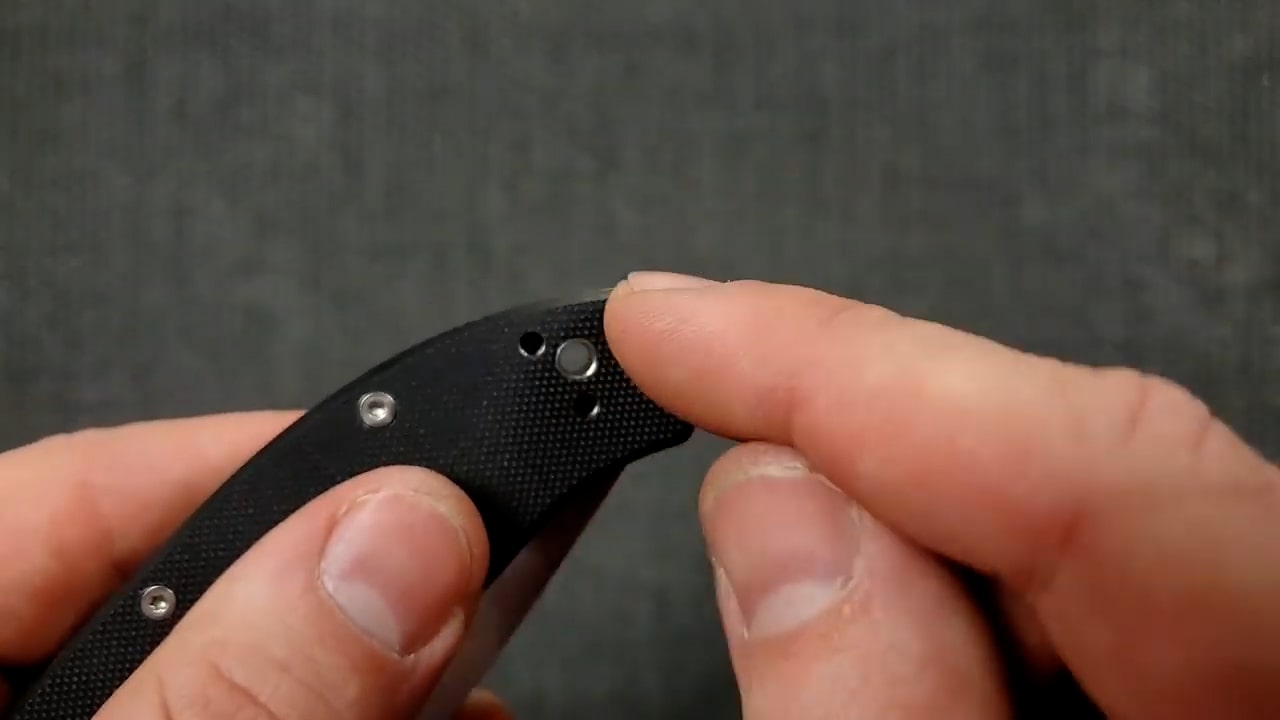 After using it for quite sometime, it still looked in better condition than I expected though.
The rusting and wear and tear was obvious after extended usage. It also required regular cleaning and sharpening.
However, every knife requires good maintenance if you want to sustain it for long.
Apart from a slightly low-quality blade, the ergonomics of the knife are quite well. It is larger than most pocket knives and has a smooth finishing of G10 over its scales.
It is also more practical for EDC users if they do not want to spend too much on PM2 or Para 3.
Spyderco Tenacious is an excellent alternative for those who aren't too crazy about pocket knives but look for utility.
FAQs
Is the Spyderco Tenacious a good knife?
The Spyderco Tenacious is a great choice to begin your knife collection without breaking the bank. It is a practical mid-tier knife with excellent ergonomics and a smooth liner lock.
What is the Spyderco Tenacious made of?
The blade of Spyderco Tenacious is made from 8Cr13MoV Stainless Steel, and this is the only knife you will find this blade material on. Its scales are made of G10, which is quite a common component found on most Spyderco knives.
Is the Spyderco Tenacious good for EDC?
Spyderco Tenacious is an excellent EDC knife at a less price, and a good alternative of premium EDC knives.
What is the Spyderco Tenacious Lightweight C122BK?
The lightweight version of Spyderco Tenacious is lighter than the original, and comes with Fiberglass Reinforced Nylon (FRN) handle scales.