In Spyderco Slysz Bowie review, you will get to know why Spyderco Bowie folder is over hyped and does not stand to its hype being a limited edition. Our experience is not good with this premium Spyderco pocket knife as its designed and manufactured via collaboration between Marcin Slysz & Spyderco Knives.
Being limited edition knife, this Spyderco Slysz Bowie Folder™ Titanium pocket knife may not always be in stock, considering its exclusive production to meet the market demand. However, its exclusivity asks for a premium price of $250-400 MSRP. Although you may get it in lesser price from exclusive online knife retailer.
Spyderco Slysz Bowie has been one of the most requested pocket knives to return to production after Spyderco Knives halted production of new units years ago. The other variant, the Silver Slysz Bowie Folder Titanium CTS XHP has been discontinued. The only differences between the two are the steel material and scale finishing. However, these can make a huge difference.
Spyderco Slysz Bowie Knife Variants
The silver titanium Slysz Bowie features CTS XHP steel. Meanwhile, the blue variant has M390 blade. According to customers data, product reviews on different website, I found that M390 blade variant is clear winner reason being, it is corrosion and wear-resistant with higher edge retention. Therefore, you do not need frequent sharpening.
But on other hand, CTS XHP need to sharpen more frequently and it takes much lesser strokes as compared to M390. Secondly, polishing the blade is much easier and faster as compared to M390. Lastly, CTS XHP is cheaper as compared to M390. Therefore, we will be focusing our review on the M390 Blue Titanium Slysz Bowie pocket knife and see, is it worth paying? Is Spyderco Slysz Bowie M390 really premium knife or just hoax on internet.
More about comparison later in my review
Let us begin by listing down the knife's Important specifications, so you should know more and what to expect!
Key Specifications of Spyderco

Slysz Bowie Folder M390
Background of Spyderco Slysz Bowie
Marci Slysz is a Polish custom knife maker who has collaborated with Spyderco to produce various custom-design knives including SpydieChef, Techno 1, Spyderco Techno 2, Spyderco Swayback (review coming shortly), and Slysz Bowie. Marci Slysz designs are simple, yet flawless and feature fine craftsmanship. He started making fixed-blade knives back in 2006 and upgraded to high-tech folding knives that are now his specialty.
Before going to Slysz Bowie, I want to add few words about the SpydieChef pocket knife and you will know the reason why I am mentioning it here. It is an all-purpose highly evolved folding knife with hand-friendly ergonomics and balance of a chef's knife. As its name suggests, chefs can take multiple advantages from it as it is an extremely versatile cutting tool and convenient enough to carry anywhere. It can cut with precision and grace machined from LC200N steel. The handle also features the same solid titanium scales.
On the other hand, the Slysz Bowie is highly functional with its 'Bowie-Style' profile. It features the same two titanium scales on its handle for precision and comfortable hold. The reverse side of the scales highlight the R.I.L locking mechanism. But there have been some changes in Slysz Bowie that makes it so sought after. Spyderco Slysz Bowie has better steel material, improved the ergonomics which made this folder easy to deploy with just the thumb of one hand. It ensures a more secure, comfortable and sturdy grip, making the blade's cutting edge highly precise ensuring maximum control over every day cutting tasks.
Spyderco Slysz Bowie Review
First Impression of Spyderco Slysz Bowie
Being a limited edition and $250 plus premium pocket knife it still comes in a standard Spyderco package. I never understood, why Spyderco Knives does this? There has to be better and some premium packing for expensive knives. Anyways, you will find an instruction manual and a label that say "Made in Taiwan".
So, it's designed by polish knife maker with collaboration of US Company but is manufactured in Taiwan. Given Spyderco Para 3 is half the price as compared to this folder but it's made in USA.
The handle felt soft yet sturdy to touch at first hold. I was able to open it immediately with one thumb. The deployment is secure and smooth as butter.
The edge seemed pretty sharp with a little wear at the tip, but otherwise in good condition. The blade seemed to hold its position once opened, ready for use. The blade was perfectly centered with titanium scales and easy-grip handle. When closing it, I did not even need to close it all the way in. One smooth action was enough.
Although some people do not seem to like the blue handle, it does not bother me much. I think the reason for not liking it is that it can easily get scratched, unless cleaned regularly. Moreover, the anodes did not seem perfect, unlike Spyderco's other knives.
I could also see the two titanium scales and a G10 back spacer riding on phosphorene's washers. Although it did not come with a finer stone wash, but the satin-finish, which is good but not as good as the original.
It seems like a great knife to have for knife collectors, and those who need it more frequently for varied tasks. As it's a highly premium product, it does not fall in the basic pocket knives category. Therefore, if you can get a good deal on it and really need it for different tasks, only then would I suggest buying it. Otherwise, a second hand purchase is also not a bad idea. A well-maintained knife like the Slysz Bowie is durable, and can work for years.
Even though it does not look perfect, its limited production is what made it exclusive, which increased the demand and hype of this knife.
You can also go for a mirror-polished edge on it for extended edge retention, especially on the tip. Although the pocket clip does not look too sturdy, it is good for concealing the knife in the pocket.
A lot of the people seemed to compare Slysz Bowie to Chris Reeve's Sebenza, because of its size and it being a premium product. However, it retains well in rough environment, and is easy to operate even while wearing gloves. Compared to the Sebenza, it is not as pricey, even if you pay $100 more than you may do with Sebenza. Therefore, it is not good deal.
The Blade of Spyderco Slysz Bowie
The blade of Slysz Bowie is perhaps the best thing about it. The Bohler M390 stainless steel is a top-tier steel material for knife composition. It contains:
Carbon: great for edge retention and hardness. M390 contains 1.9% of carbon, which is enough for wear resistance and tensile strength.
Chromium: great for corrosion resistance. Stainless steel contains at least 13% chromium that lowers brittleness, but can impact edge retention. M390 contains 20% of chromium, hardening it enough to hold resistance when carrying out heavy tasks.
Molybdenum: adds to the toughness. M390 contains 1% molybdenum, reducing chipping likelihood. Due to this 1%, the knife may be tough to sharpen, but can bear high temperature.
Vanadium: contributes to the wear resistance and toughness. M390 contains 4% vanadium, which makes up for the lack of molybdenum. It also contributes to carbide formation, further hardening the steel.
Manganese & Silicon: M390 contains 0.30 manganese and 0.70 silicon, which together contribute to the strength and hardenability of the knife. Manganese also contributes to wear resistance and strength. Whereas silicone removes oxygen from the steel, reducing pitting and blowholes.
Coupled with a straight clip point blade shape with a radius spine and a full-flat ground blade, it stand out of the crowd. It is also what boosts its performance, and makes it wear and corrosion-resistant. It works well with highly polished and coarse edges.
Although M390 has moderate toughness, it is not easy to sharpen, especially if you are not a regular knife user. If you have diamond stones, then sharpening can be made easier. The CTS XHP variant of Spyderco Slysz Bowie had semi-mirror stonewashed finish, which is easier to sharpen compared to this Bohler M390 steel for sure.
One more thing, it says, straight clip point blade shape, but, its beefy and is more like drop point blade to me rather than clip point. You guys decide? What you guys think does it look clip point or drop point to you?
The Handle and Ergonomics on Spyderco Slysz Bowie
The handle scales of Spyderco Slysz are made with titanium, and we all know that, titanium handle scales are considered worst when it comes to grip especially in extreme climates and in rough terrains. If you have such a knife on your hunting trip, the Blue color will get so much scratches from dust and mud, that, the handle will look no longer good.
Lastly really disappointed from Marci Slysz, as he is known for his fixed blade knives, and even a new knife designer knows that, without ridges on metal scales, you wont get good grip and he didn't worked it. Then comes the Spyderco Knives, they have so much feedback from their customers, and yet they know the importance of knife handle scales, like you will find bi direction texture on Spyderco Delica 4, there must be some texture on these titanium handle scales. Else buy a Kershaw Leek a budget pocket knife, why to throw your money on such knife?
As you can see on the handle, it left sweaty fingerprints all over it where I held it seconds ago. It is not a very appealing feature, especially considering the price. Although it is easier to carry while wearing gloves, it is still something I would not compromise on.
Thus, the ergonomics of the handle do not quick sync with the premium blade that is made for precision cuts with M390 particle metallurgy stainless steel.
Lastly, the handle easily picks up dirt, which makes it vulnerable to wear and tear quickly. The blue anodizing was not the best choice on this knife considering the premium price.
You may have to clean it thoroughly after each use for long wear. Compared to other knives by Slysz, this was worse off. SpydieChef and the original Slysz Bowie can be bought again, but not blue anodized one.
Hence, the knife design is not the greatest, especially for a newbie. Some of the occasional knife users and reviewers complain that Spyderco's prices keep increasing with higher end variants, yet the supply is awful, hence the hype. However, it does not live up to its hype when it comes to ergonomics.
Also, lefties may find it easier to grip the knife better. However, it may block the deployment hole with a reversible clip, which isn't great either.
The blue scales' finish is also different from the original variant, hence the vast difference between the two, even though their material is the same. I would say it is because of the blue color. It could work better if the blue color on the handle was missing.
Deployment and Lockup of Spyderco Slysz Bowie
Slysz Bowie uses the same thumb-opening hole it does with all its all other Spyderco knives. Although it is very smooth and easy to use, it is not as heavily chamfered as it should have been. It could be because of the absence of stonewash during blade manufacturing, but a knife of this price point expects a more polished feel from the customers. It could lead to blade breakages at the opening hole.
As you can see, the steel between the hole and the edge is rather thin for the steel toughness. If it does break, the knife would be useless. To avoid that, I'd suggest softer and gentler opening and closing, so as to put less pressure on deployment.
If you look at the comparison above between the blue Slysz Bowie and the original one, the difference is clear. The original one also features a sleeker blade, better for deployment than the blue variant.
However, the blade stays in place after closing it, which is less common but good. The same happens when you open it. And opening and closing the knife feels perfectly satisfactory, with no stuttering or binding. It compares with the Sebenza in this aspect.
The two solid titanium scales on the handle offers added functionality. One of the scales forms the basis for its locking mechanism of R.I.L. It was a good addition unlike flat scales on most pocket knives. I liked the newness of this locking mechanism, especially considering how smooth and satisfactory it felt in the hand.
Experience and Field Test
The actual quality of blue Slysz Bowie can only be tested in the field. However, this knife falls between the EDC knives for harder tasks and very light use. This one would work well if used lightly and kept clean. Only then can we keep it for extended usage.
It works really well when cutting fruits like apple. The operation went as smoothly as possible.
Similarly, it cuts through the pipe easily too, although with some strength. This was a bit of a tough task for the knife, so it took some restraint. However, if you get a good grip of it, it can run the operation more smoothly. Although, it slices through the plastic pipe with quite an ease and precision.
It passed the edge test with flying colors. Chopping with the edge really proved its edge retention. However, it needed cleaning and sharpening in between the task to speed up the process. It was able to hold its own for quite some time until the task was over. It also sliced through the paper with extreme ease, highlighting its extremely sharp blade.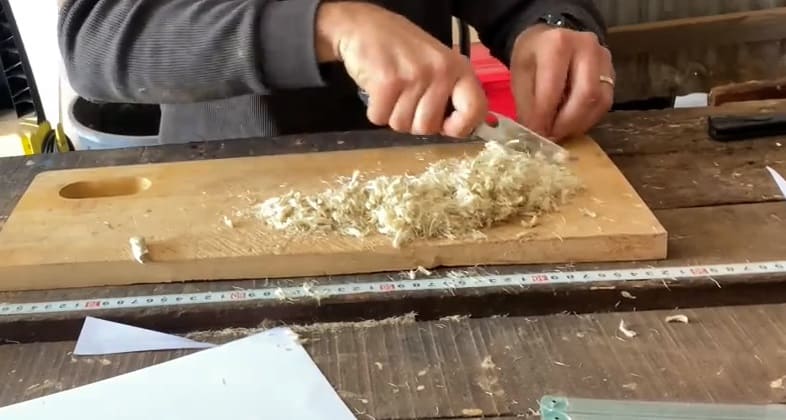 However, if we move towards cutting through a slightly tougher dry wooden stick, it requires some strength and effort. It also made the knife handle and blade dirty, requiring constant cleaning.
Overall, it did well. However, it was not as rust resistant as the original Slysz Bowie. It could be because of the lesser amount of chromium and carbon in its blade than the original. The edge retention was quite good, and proved to be quite durable.
Comparison
Spyderco Slysz Bowie vs. Sebenza 31
Slysz Bowie often gets compared to Sebenza 31 for many reasons. Their size and blade is relatively the same, and both carry out similar tasks. Also, both have the same titanium scales and locking mechanism. Both the knives are of premium quality with the same price point. Their scales are hence also the same.
However, I do see a difference in handle materials. While Sebenza has a cleaner finish, Slysz Bowie seems rough around the edges in comparison. The blade of Slysz Bowie however, is superior to the Sebenza, which has CPM S45VN blade material. At the same time, the M390 is harder to sharpen than S45VN. Therefore, there are trade-offs.
Another difference between the two is their country origin. The Sebenza is made in Idaho, US, while Slysz Bowie is made in Spyderco factory in Taichung, Taiwan in collaboration with Marci Slysz, the knife maker.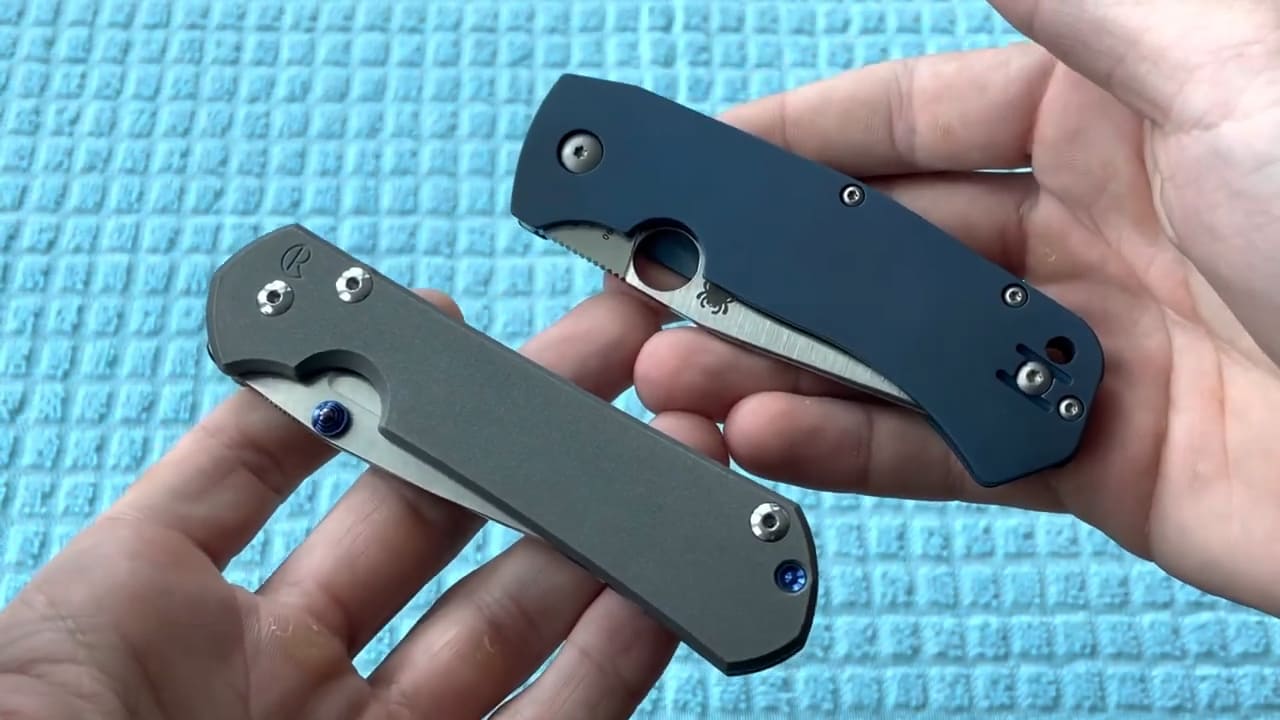 However, I prefer the Slysz Bowie over Sebenza because it is easier to operate. I especially like the bigger Spyder-hole on Slysz than on Sebenza 31.
The Spyder-hole makes it easier and smoother to switch between opening and closing of the knife. Meanwhile, Sebenza does not have the edge of Spyderco's Spydie-hole, aiding in the deployment. Preference given to Slysz Bowie.
Spyderco Slysz Bowie vs. SpydieChef
The two knives call for the comparison not just because they look alike, but are both by the same designer.
As you can see, the picket clip is also similar on the two knives. However, the SpydieChef's blade shape is downward facing. It is excellent for cutting and dicing with your hand off the surface to protect it. As the name suggests, it would be an excellent tool for a professional chef who is used to cutting at a fast pace without breaks.
On the other hand, Slysz Bowie is more for practical tasks. It has enough belly to slice through with precision, like paper cuts or cardboard slicing.
Although the performance of both is equally good, the blade material of the two is different. SpydieChef features LC200N blade, while Slysz Bow has M390. However, the LC200N is almost rust-proof compared to Slysz Bowie.
Moreover, the pocket clips of both knives are also the same. However, there is a bit of difference between their finishing. As you can see, the Spyderco SpydieChef has a slightly slanted pocket clip, making it easier to carry in different positions. The Slysz Bowie features a relatively simpler pocket clip, much like most of Spyderco's pocket knives.
The SpydieChef has a rough machine finish on its blade, whereas Slysz Bowie has a mirror-finish. It gives a good look of the look, enough to show off.
Also, SpydieChef has two slabs of relatively flat titanium shafts inside the handle, and the finish is also titanium. The Slysz Bowie has slightly different contour finish, so it feels nicer in the hand.
However, when it comes down to it, the choice between the two depends on the tasks you want to undertake. I would prefer SpydieChef for food preparation, and Slysz Bowie for other everyday light tasks.
Conclusion
Spyderco Slysz Bowie blue with M390 blade came with a lot of hype, especially with its collaboration with a knife designer, Slysz. It was also highly exclusive with Knifejoy as its exclusive reseller with limited supply.
Even though I loved almost everything about the versatile M390 blade, including its shape and the full-flat grind; it is harder to sharpen. It also requires regular cleaning for proper functioning. But that does not make it any less functional.
It works well with food preparation, cutting dry wooden sticks, and slicing through paper and cardboard with precision. It may require sharpening and cleaning in between extended tasks.
The blade of Slysz Bowie is not ideal as compared to other M390 options when it comes to price, and neither are its handle ergonomics. It easily gets sweaty, hence making it less slip-proof, and catches dirt easily.
The titanium handle scales of Spyderco Slysz are also not ideal unlike other Spyderco pocket knives that offer sturdy grip like Spyderco PM 2, Spyderco PM 3 and even Spyderco Delica 4. The pocket clip however, is as good as it gets.
I would recommend Slysz Bowie only if you have enough budget to spare to have it another useless addition to your collection. It's not viable EDC. Thus, I am giving it lowest 1 out of 5. In terms of design and materials when compared to value in terms of price.
FAQs
What if Spyderco released the Slysz Bowie?
If Spyderco had released Slysz Bowie a few years ago for $100 less, then it would have made waves in the knife production scene with enough supply.
What is the difference between Spyderco's 'Bowie' and 'Techno'?
Techno was Marcin Slysz's first production collaboration with Spyderco, while Bowie was second. It was because of the fame of Techno that Spyderco decided to collaborate with Slysz again and because of his fine craftsmanship.
Is Slysz Bowie Blade any good?
The Bohler M390 blade on Slysz Bowie makes it an excellent choice for custom knives and production. Its premium material is what sets it apart from other knives. But overall, it's not recommended. Over hyped blade.
How hard is Slysz Bowie?
The steel composition on Spyderco Slysz Bowie including chromium, carbon, manganese and silicon contribute to the knife's hardness. The M390 blade has standard HRC ratings of 60-62 but all depending upon heat treatment of steel.