Civivi Elementum Knife is remarkable since its beginning. Before writing Civivi Elementum Review, I want you to know that it's been launched in November 2018 and its now almost 2 years old. As I proceed with Civivi Elementum Review, you will know why it's among the very best pocket knives of CIVIVI. As you will see is outfitted with D2 Steel blade having satin finish and Linerlock knife. 
Just like other knives, I always review a knife once I'm sure about its quality and usage. It's not just as impressive as WE Knife 608 or impressive design in terms of looks when compared to WE Knives Scoppio 923 but, it's still a best seller till date. My Curiosity grew when I saw so many reviews and people putting up pictures on different social media platforms about their Civivi Elementum. So, here we are with Civivi Elementum Review.
Civivi Knives
If you are totally newbie then this part is for you. Actually Civivi Knives is a subsidiary of WE Knife Co, a Chinese knife manufacturing company who used to produce knives for different knife brands in USA and all over the world. More than a decade ago, they started with their own Brand called WE Knives and entered the USA Market with top quality and expensive yet Chinese made knives.
Civivi Knives is also their brand or a subsidiary and to me, correct me if I'm wrong? Civivi Knives offers knives to mid-tier buyers where as WE Knives has most of the knives which are little higher end not only in terms of prices but also blade steel being used.
Yet, the Quality checks for WE Knives and CIVIVI is done by same team and manufacturing is also done at the same location, therefore, there is no compromise on its quality. Even you can claim lifetime warranty on products unless you void their usage terms.
Last but not least, I like to specify a recent happening where someone posted on WE Knives Group at Facebook about broken pocket clip and they sent him another pocket clip free of any charges he just have to pay delivery charges which are minimal. I am sharing the Link as under.
Key Specifications of Civivi Elementum
Civivi Elementum Review
Actually, it's hard to find this Elementum Knife among other competing knives having almost same price range but once you read my review, you will see, it's worth the bucks spent. Civivi Elementum comes in different material, color and finish combinations. So, you will find so many options to choose as per your requirement. As Pocket Knives are not just everyday carry knives or pocket knives but they also define the user's personality.
First Impression of Civivi Elementum Knife
Civivi Elementum is manufactured & Designed by WE Knives as said earlier and the attention to detail and quality of production is superb. Third yet most crazy part of this knife is the customization factor. Yes, it is easily customizable by making new scales, blade can be acid washed and much more, giving a knife collector a true one of a kind look they want for their Civivi Elementum.
Civivi Elementum first impression is not impressive as far as I felt. The simple lines and more simpler design is quite boring but the unattractive yet simple look never the less adds CLASS to knife and make it universal to carry. But once you use it, you will feel the styling of its blade, shape of handle, its profiling and above all the grind work all in synergy and complimenting each other. Thus, providing modern, handy light look and feel to knife.
Variants of Civivi Elementum Knife & Prices
There are 24 variants of Civivi Elementum Knife since its launch and it is expected more variants will be seen in coming months. To make things easy, Civivi Elementum Knives have drop point blade with hollow grind plain blade with materials D2 Stainless Steel with 1 exception of Civivi Elementum Damascus steel blade and finish along with carbon fiber handle scales.
Civivi Elementum Feel In hand
Well, once you hold Elementum knife C907M in your hand, you will feel like it's made for your hand as far as the grip and initial feeling you get. The best part is knife making expertise of WE Knives and Design Team of Civivi Knives which designed a knife excellent for all types of hands and it has right proportions making it superb pocket knife.
The grip jimping on the spine and finger choil provides extra sturdiness when using to cut something little hard for extra pressure. There are no hotspots if used by right handed people but for lefty like me you may find a hotspot near pocket clip given it thin but still. Similarly, one finds hotspots during heavier tasks but those are not that bad, neither negligible.
Civivi Elementum's Blade
D2 blade is becoming popular and it has HRC rating 59 to 61 almost same as of CPM S35VN like you find in WE Knife 610 "Battleship" which is selling online for around $200 plus. Therefore, it's a much wiser choice by Civivi Knives Design team to come up with material having almost same HRC ratings and it's cheaper to.
Further, the drop point shape of knife is great for slicing and dices and it's done with ease and precision. The Edge retention of D2 is great because of its high HRC ratings as mentioned earlier but sharpening the edge is little tough (time consuming) as compared wot CPM S35VN Steel.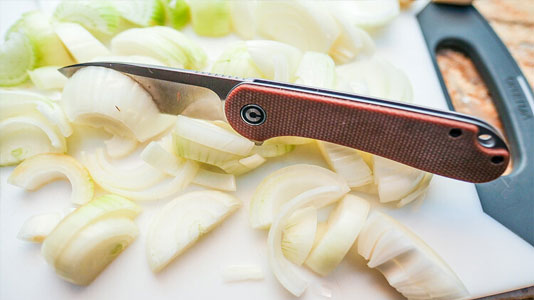 Elementum Knife has drop point blade and with which I cut few wires, some bread, paper and my parcels and I have no problem with it during my use so far.  The hardness of blade compliments its sharpness and everything which I cut had a laser precision and it's as easy as cutting butter. The control and performance of this knife is great.
Deployment of Civivi Elementum
It's a flipper no doubt, and the flipping action is smooth to. The Caged Steel Ball Bearing with balanced blade weight and the flipper tab makes the deploying of this knife smooth, easy and fast. During deployment the Linerlock system of this knife keeps the Civivi Elementum blade in place. Thus, the opening and closing of this knife is great.
Civivi Elementum Pocket Clip Review
The Pocket clip of Civivi Elementum is made from Stainless Steel and frankly it's not great at all. Firstly, it creates hotspot in hand when gripped and it's not good for any every day carry knife. WE all know that, pocket clips are the making or breaking factors because you cannot keep a knife in your hand, one needs to put it in pocket and that is why the second most disappointed factor I found is again its thickness, which doesn't hold the knife securely in a pocket.
Overall the knife is great but it seriously lacks in the pocket clip area. I hope with more new models are expected in future they may change the pocket clip but all I can say so far the pocket clip does not match the rest.
Competitors of Civivi Elementum
Civivi Elementum Vs Praxis
Civivi Praxis is bigger, beefier and Havier as compared with Elementum. Both Knives have different blade grinds and entirely different profiles I Must say. Like if you are looking for light, simple and gentleman's Knife kind of character knife then element and if you want much solid and have heavy EDC tasks at hand apart from cutting packages etc. then go with Civivi Praxis for sure. Then another difference is in blade steel, with Elementum you have D2 Steel Blade where as in Praxis you got 9Cr18MoV steel. In Praxis you have G10 handle scales in various colors where as Elementum knife series has wood, Micarta or G10 options. Civivi Praxis wins in terms of pocket clip and usage as it can be used by both right or left handed people with reversible tip up pocket clip where as Elementum lacks being just for right handed users.
Civivi Elementum Vs Baklash
Baklash and Elementum both have hollow grinds and its best part I like about both. As Hollow grind blades are easier to sharpen and the thickness of the blade remains same no matter how many times you sharpen it.  Civivi Baklash stand in middle in terms of weight and size as compared to Elementum which is smaller and Civivi Praxis being bigger and definitely heavier. Baklash loses on weight, as it's heavier and carries lesser edge as compared to Elementum.
Ontario Rat 2 Vs Civivi Elementum
Ontario Rat 2 is a great option for budget friendly EDC Knife when compared with Elementum. As it has thinner handle, lighter in weight, can be used by any hand, and has a thumb stud. But it got Nylon scales which are not as comfortable as compared to G10 or Micarta. The overall impression and the gentleman's look Civivi Elementum or the aesthetics of shape and design is superior as compared to Ontario Rat 2.
Civivi Exarch Vs Civivi Chronic VS Civivi Elementum
According to me, there is no relation between CIVIVI Elementum comparing it with CIVIVI Chronic or Civivi Exarch. As Chronic is more of clip point blade and to me, each blade shape serves entirely different EDC task. Similarly, CIVIVI Exarch is front flipper with straight handle and I didn't feel its grip as comfortable as compared with Elementum.
Conclusion Civivi Elementum Review
Well, Civivi Elementum is incredible in terms of features and utility it offers with respect to price being offered. The D2 Steel is not stainless and it also consumes more time sharpening and as for pocket clip it's a deep slide pocket clip. But simply saying I repeat it's a great knife to have as EDC and its well designed by Civivi Design Team of We Knife Co.
Just because it's a great knife people are still buying it till date and above all mostly Knife collectors because of its style, fit in hand, deployment and options to select different materials mentioned above in Variants.
Honestly, it's worth the price you pay. Spending between 50 to 89 bucks is nothing in comparison to the product being offered. Frankly, you will not be disappointed ever on your purchase but you may regret if any of the variants you are thinking of buying gets out of stock. So buy Soon.
How many models are in Civivi Elementum?
admin
2021-09-28T00:44:11+05:00
Civivi Elementum Linerlock was launched in 2018, and now in in 2021, it has 23 models which are being sold these days.  Its among the best seller knives of 2020 as per BladeHQ, KnifeCenter and many other. You can also find Civivi Elementum Button Lock Series and Civivi Elementum Fixed blade Series as well.
Is the Civivi Elementum durable?
admin
2021-09-28T00:39:36+05:00
Civivi Knives always aims for the budget-minded knife customers, therefore, it uses durable yet affordable D2 steel in the Civivi Elementum. It comes in satin and black stonewash finishes and you can also buy Damascus finish steel blade for under 100$ as well.
Is the Civivi Elementum worth it?
admin
2021-09-28T00:33:52+05:00
Civivi Elementum. has quality materials, but not amazing materials. The knife is awesome in terms of its finish, but it doesn't have the wow factor that comes with some other knives. If you're after a knife that draws a ton of attention from others then Civivi Elementum isn't the knife for you. But if you are looking for good budget EDC, then yes, you can choose from 24 different Elementums you like